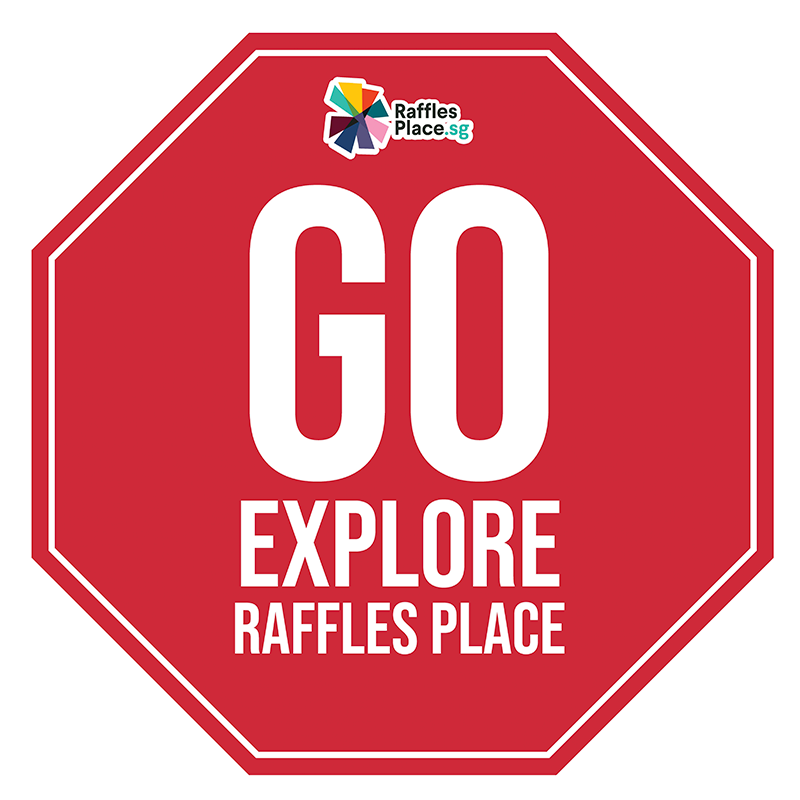 Now that we have March-ed into the third month of the year, how are you keeping up with your new year resolutions? If giving your health a good boost is on your list, there is no better opportunity than now as you go explore Raffles Place in three energising ways!
Calling all runners out there, get ready to lace up your running shoes for a quick workout. For those who prefer a more leisurely pace, a good walk helps you clock in your steps while clearing your mind. Prefer to move faster? Cycle and breeze your way through the exciting trail that awaits you! All three activities are trackable using Strava, so you can keep your daily performance in check or share your activity with your friends!
The best thing is you get to explore Raffles Place and its neighbouring landmarks as you walk, run or cycle along the suggested routes. From picturesque sights to yummy treats, there's always something to discover for everyone at Raffles Place!
Ready to begin? Spot the "Go Explore Raffles Place" sign in Raffles Place Park that marks your starting point!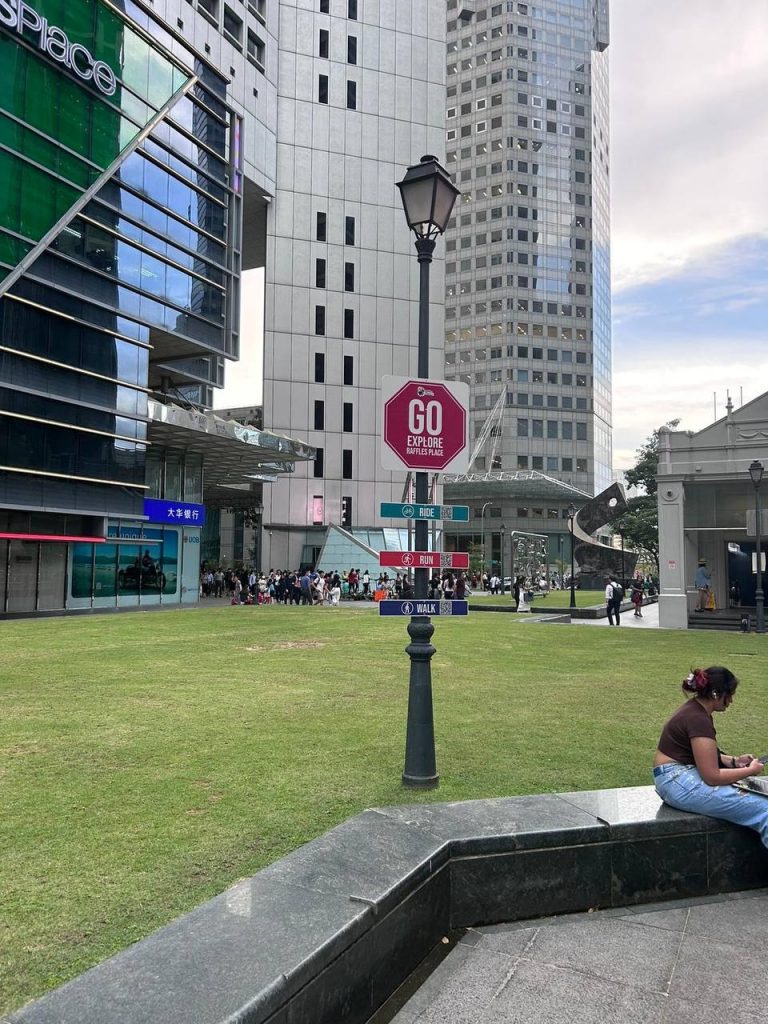 2.5KM WALK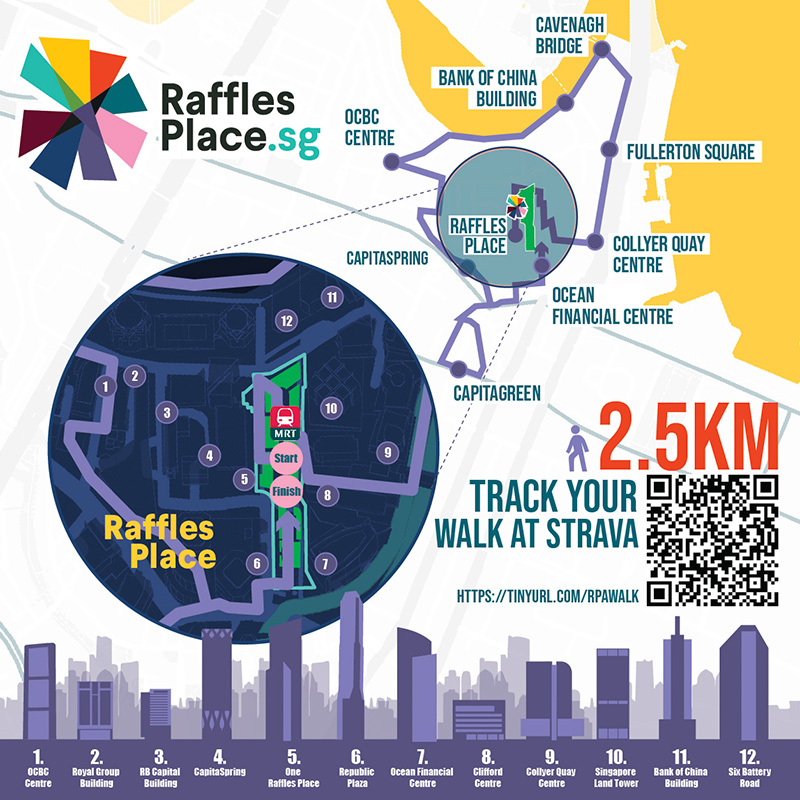 Take a relaxing walk and enjoy panoramic views and idyllic architecture on this 2.5km route. Head to Raffles Place Park and look out for the starting point in the middle of the park. Scan the QR code for the walk and track your stroll with Strava HERE.

Pace along the suggested route and you'll be sure to come across key buildings in Raffles Place, such as Collyer Quay Centre, Singapore Land Tower, Bank of China Building, OCBC Centre, CapitaSpring and CapitaGreen, among others. Not only does a great walk invigorate your body, it also fuels your mind with inspiration as you take in the skyscrapers while catching that buzz found only in the CBD.
Looking for more interesting stops along your walk? Affectionately known as the "The Love Temple", the Yueh Hai Ching Temple is a must-visit.  Located on Phillip Street,  the temple serves as a reminder of the contributions of Teochew Chinese pioneers who arrived in Singapore shortly after the arrival of the British in 1819. It is the oldest Teochew temple in Singapore and has won the Award of Merit in the UNESCO Asia-Pacific Heritage Awards for Cultural Heritage Conservation in 2014.
In this 2.5km journey, you will also get to explore two heritage spots as you approach the Singapore River: Cavenagh Bridge, which was built in 1869 and named after Cavenagh, who was the last governor of the Straits Settlements under the government of British India, and Fullerton Square.
As you return to Raffles Place after completing your 2.5km walk, reward yourself with a scrumptious breakfast or pick up a coffee at one of the many F&B spots in Raffles Place.
5KM RUN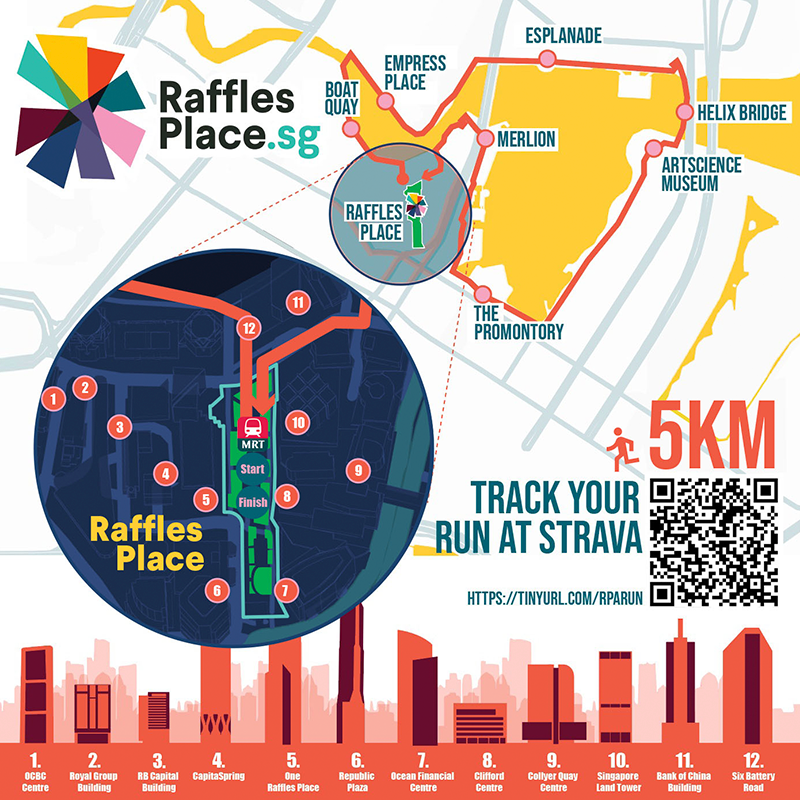 No time limit, no pressure. The key tip to completing this 5km run is to jog and enjoy yourself, whether it's a solo trot or if you are running with your colleagues. Starting out in Raffles Place Park, run at your own pace and don't forget to take in the stunning views and riveting city beacons that complement your energy during the run. Head over HERE to track your run with Strava. To get started, look out for the sign at Raffles Place Park and scan the QR to keep you running on the right track.

Just like the 2.5km walk, you will be accompanied by the landmarks of Raffles Place as you pass different buildings. From the distinctive Six Battery Road, leave the skyscrapers behind and move towards the Singapore River.
There are visual surprises ahead of you. Get ready to run through Boat Quay and Empress Place, then head towards the Esplanade (psst, did you know it's one of the "World's 15 Most Beautiful Concert Halls"?), the geometric-inspired Helix Bridge and the ArtScience Museum, before you loop back towards the scenic Promontory @ Marina Bay, and catch the majestic Merlion.
After completing your jog, you will arrive back at Raffles Place for the finish line surrounded by some of Singapore's iconic skyscrapers.
Raffles Place is the perfect spot to refuel and recharge after your run, with plenty of amazing dining options to choose from. Whether you're looking for a solo chill or a post-workout catch-up with your running buddies, Raffles Place has something for everyone. From coffee and tea to soda, sandwiches to pasta, take your pick for a post-workout refuel. 
20KM CYCLE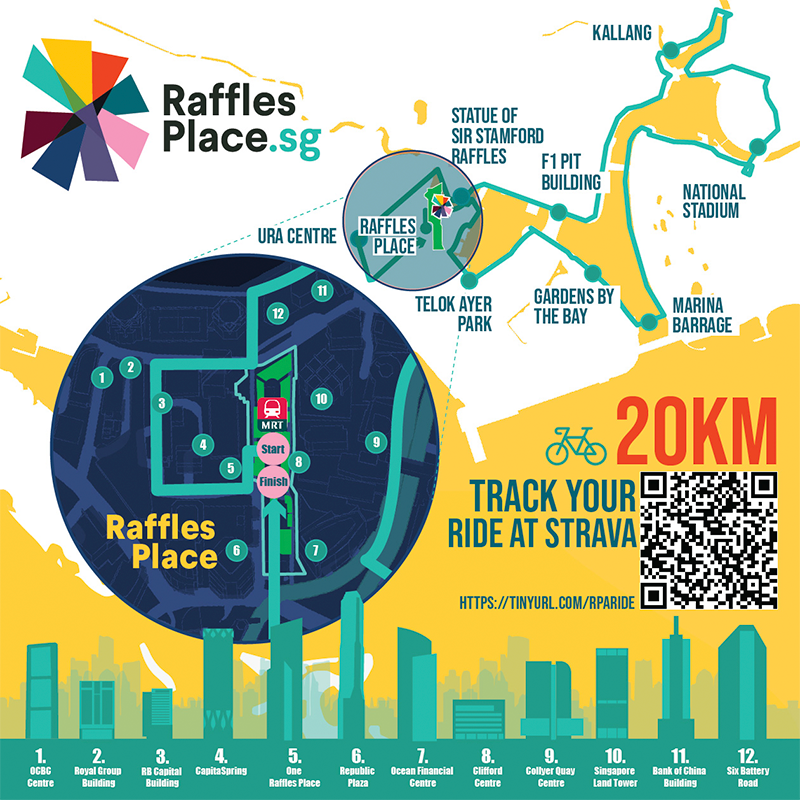 Bask in 20km of fun in the sun when you ride your favourite bike across multiple national landmarks, which serve as your checkpoints too! So, get into Strava HERE or scan the QR when you locate the following signage at Raffles Place and be prepared to check the awesome landmarks out along the way!

A longer route means more fun! Take off right at the heart of Raffles Place where you will breeze through the buildings such as One Raffles Place, CapitaSpring, RB Capital Building, Royal Group Building, OCBC Centre, Six Battery Road and Bank of China Building.
But that's not all! This route also takes you to some of the city's most iconic landmarks and scenic spots, perfect for your social media check-ins. Rest assured this 20km cycling route has all the picturesque sights to make your ride a memorable one. Your exciting sightseeing checkpoints include the statue of Sir Stamford Raffles, F1 Pit Building, Marina Barrage, Gardens by the Bay and Telok Ayer Park.
As you approach the finish line at Raffles Place, you'll be struck by the stunningly familiar architecture of nearby landmarks like Collyer Quay Centre, Ocean Financial Centre and Republic Plaza. Keep the adrenaline going even after the ride! Whether you're looking to quench your thirst with a refreshing drink, or indulge in some retail therapy, the vibrant vicinity at Raffles Place has plenty of options to keep you busy, offering an impressive selection of retail and dining spots to explore.