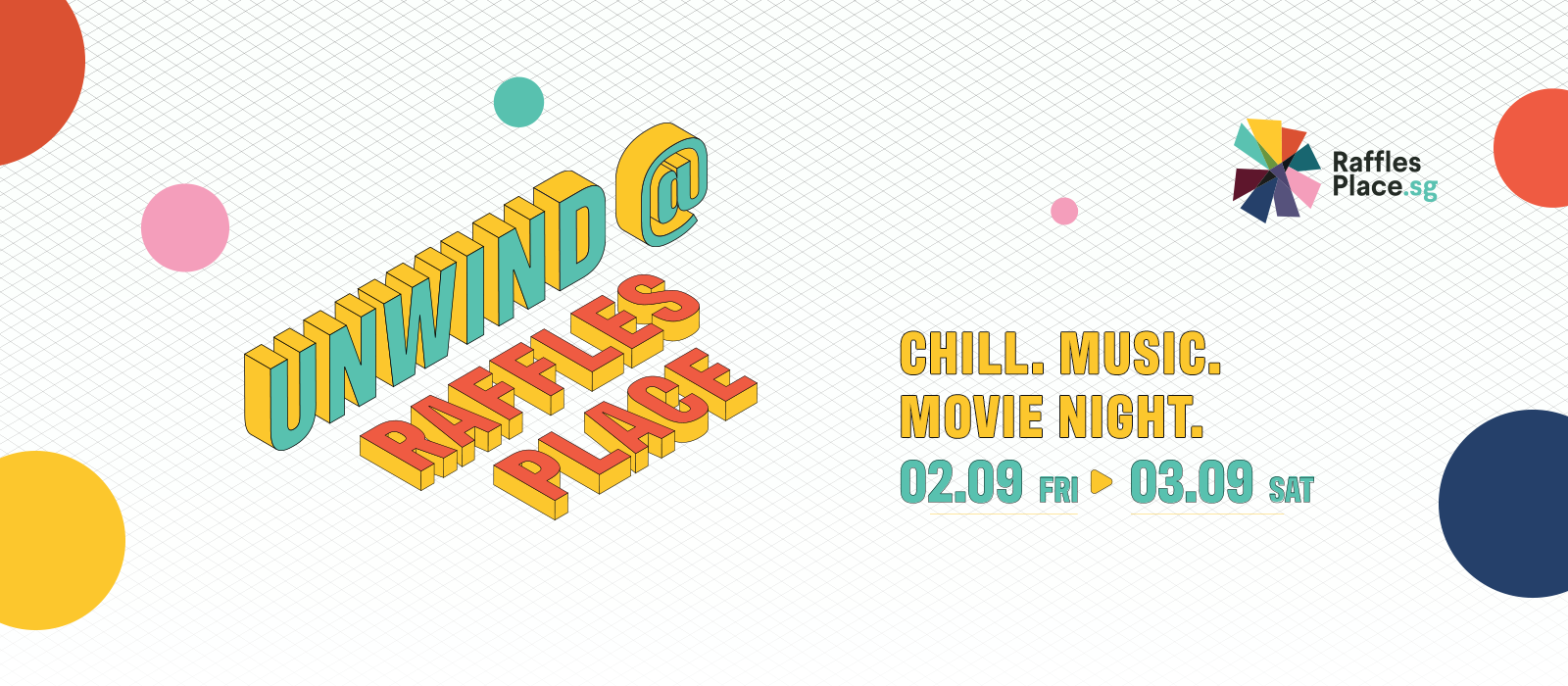 Start the month of September right with live music, giveaways, a picnic, movie screening and more! Raffles Place Alliance presents UNWIND @ Raffles Place, a reimagining of Singapore's Central Business District as a place to relax, recharge and play.
The event takes place on 2 and 3 September 2022 at Raffles Place Park from 5pm to 10pm. From Monday 29 August till Friday 2 September, we will get the park ready to party with lunchtime giveaways and live music in the Raffles Place precinct.
Friday 2 September 2022
Starting from 5pm, visitors can enjoy live musical performances, a DJ set and giveaways that will go on till 10pm.
Dating Workshops by FLEEK
From 5pm, there'll be two 45-minute dating workshops in the park for the romance enthusiasts. These workshops will be run by Fleek, an agency committed to helping ones' dating, professional and social skills. Register here.
What's On – Day 1
Live performances and giveaways: 5pm – 10pm
Dating Workshops by Fleek: 5pm – 6:30pm
Saturday 3 September 2022
Day 2 of UNWIND @ Raffles Place will see an All Day picnic happening at Raffles Place Park. Come early to pick a spot to lay your mat in the park while push carts roam the park with delicious and refreshing treats to give away.
Live performances will entertain you from 5pm so bring your friends, family and even your pets to hang out as we take over Raffles Place!
When the sun sets, a movie screening with free popcorn will start at 7:30pm. Grab a #RPchair or lay down on your picnic mats and enjoy WALL-E.
Upcycling Workshop with Didier Ng
Come and be a part of a large art installation made with recycled plastic! Join our upcycling workshop by local artist Didier Ng which takes place from 4pm – 6pm. Spots are limited, so register here.
What's On – Day 2
Picnic: All-day .
Live Performances: 2pm – 7pm

Upcycling Workshop: 4pm – 6pm
Movie Night: 7:30pm – 9pm
Be sure not to miss this special occasion happening in the very heart of Singapore's central business district!
Bring your friends, family and more importantly, yourself and UNWIND @ Raffles Place.
Join us at Raffles Place Park, right outside Raffles Place MRT!
Yes, this is a free entry event and there is no booking required for the movie screening. Pre-registrations are required for the two dating workshops on Friday 2 September and the upcycling workshop on Saturday 3 September.
2 Sep: Dating Workshops by FLEEK. Register 

here
3 Sep: Upcycling Workshop with Didier Ng. Register 

here
This is an outdoor event in Raffles Place Park and the space is subject to prevailing weather conditions.
Grab a seat on #RPchairs or get a picnic mat at the event, these are available on a first come first serve basis. Do bring your own picnic mat if you can!