Raffles Place is home to many buildings of stunning design and architecture, but this is not all the inspiration that the precinct has to offer. In various spots around the central buzz district, you can find many sculptures. 
Look out for these seven exemplary artworks the next time you are in Raffles Place.
Point of View Sculpture by Anthony Cragg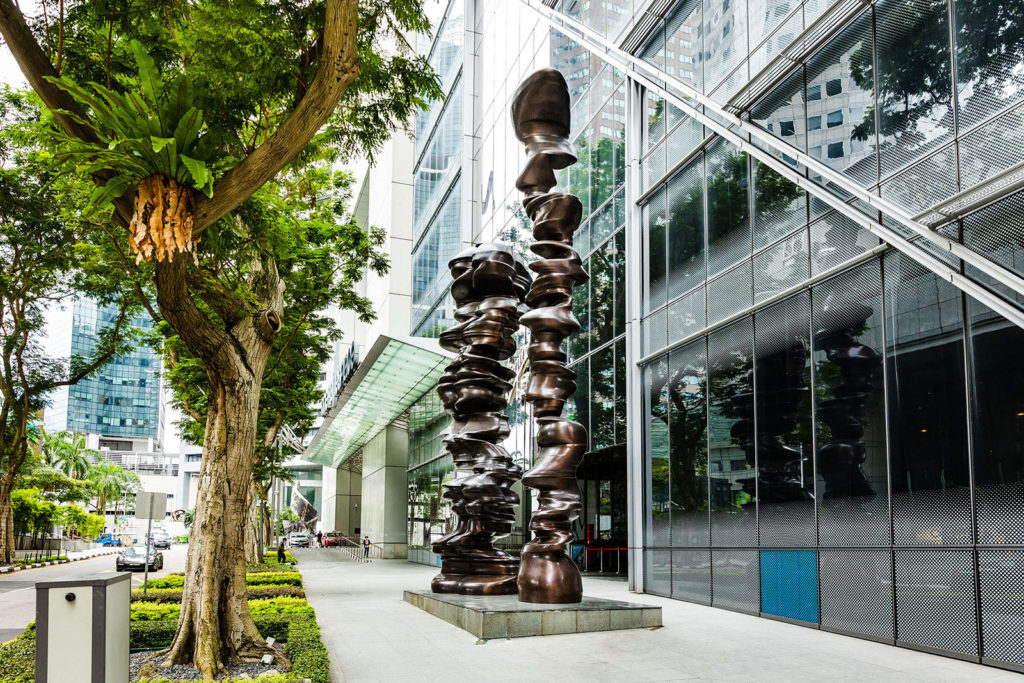 This 10-metre-tall sculpture by Tony Cragg is uniquely designed so that one is able to see different views from different angles. Circle around the sculpture and find out what you manage to see from different perspectives!  
Constructed of two blocks of irregularly shaped human profiles and familiar objects, it was created to stimulate imagination and interaction, so do check it out with your colleagues.
Located at:
One Raffles Place
Singapore 048616
Momentum Sculpture by David Gerstein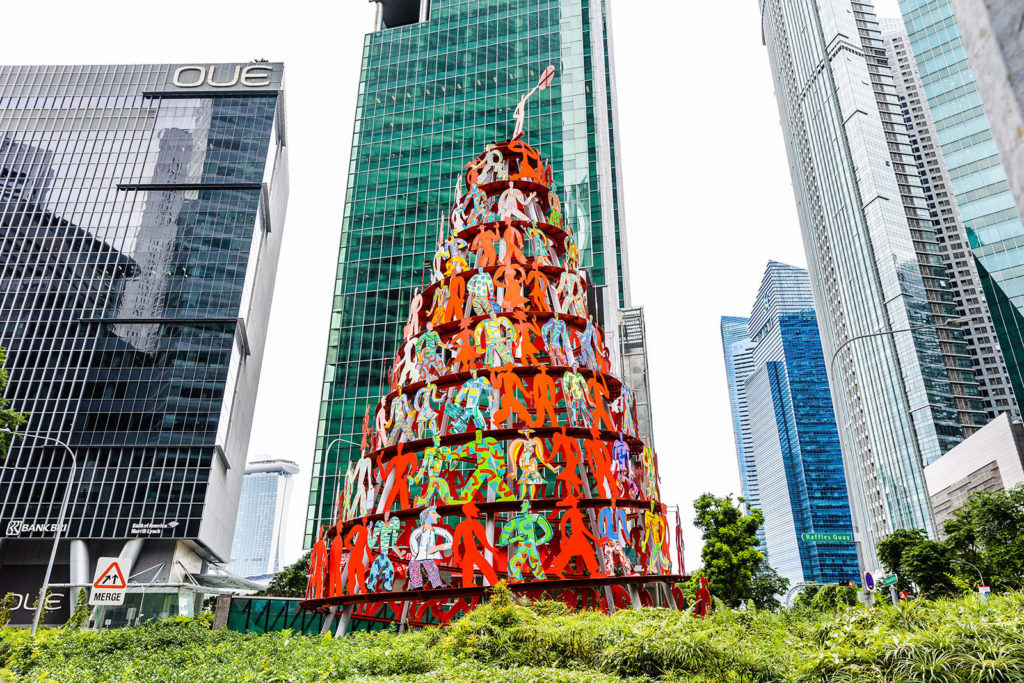 Painted with bright colors, this metal symbolic sculpture is one that is hard to miss. Standing at 18.5 metres tall, it is Singapore's tallest public sculpture. 
"Momentum" is made up of human-shaped figures side by side, depicting the upward spiral of progress, energy and momentum, very much like the precinct it is located in and the people who work in it.
Located at:
2 Finlayson Green
049247
Above Below Beneath Above by Olafur Eliasson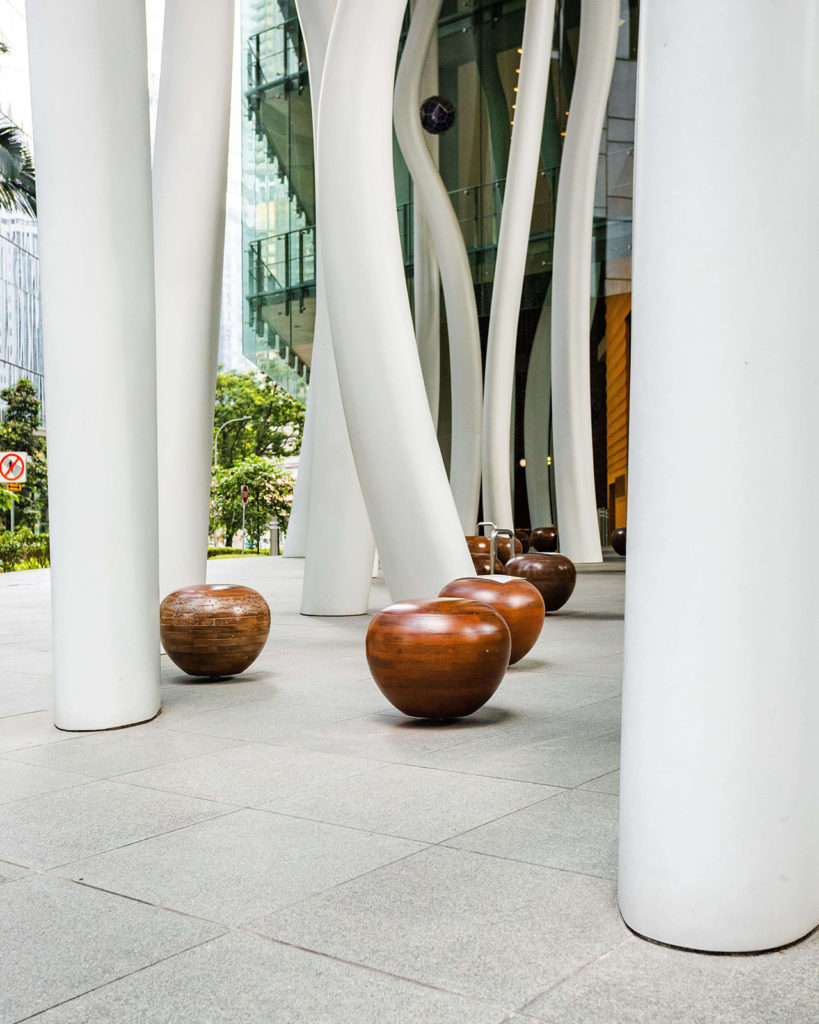 Icelandic–Danish artist Olafur infused CapitaGreen's sustainability ethos with urban architecture in this creative installation, which comprises a myriad of 56 columns, twisting and twirling amid 16 geometric lamps resembling a system of roots and crystals, reaching from the ground to the ceiling. 
The columns appear to emerge completely formed from underground, as if they and the building that rises from them were simply an extension of the life and growth that already existed.
Come and view it at night, when the 16 lamps are lit and cast complex shadows onto the surrounding glass, walls and columns, producing atmospheric lighting simultaneously. 
Located at:
CapitaGreen
138 Market Street
Singapore 048946
Singapore Soul Sculpture by Jaume Plensa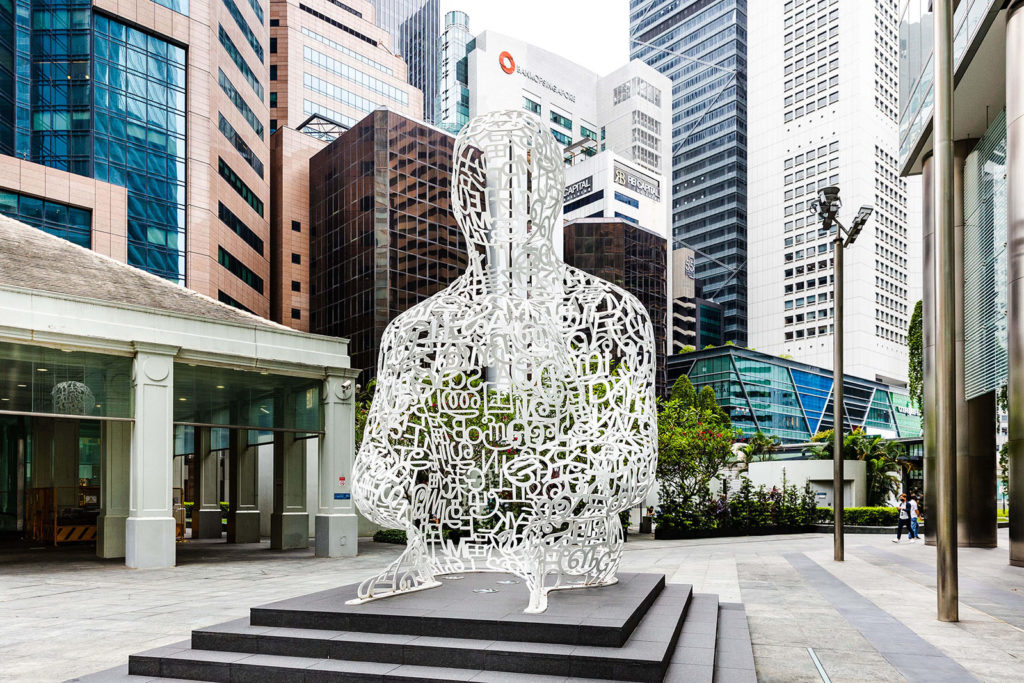 This sculpture signifies the unity, harmony and multiculturalism of Singapore and its people, and features the words, "equality", "justice", "happiness" and "prosperity" from Singapore's National Pledge.
The mixture of words and alphabets in various languages form the entire structure and serves as an expression of how essential and powerful communication can be in uniting a community.
Plensa explained that the different languages and diverse cultures in Singapore encompasses the very 'soul' of the country. Shaped like a seated human figure with knees tucked in, the Singapore Soul Sculpture glows white at night. Do walk inside and be embraced by its words.
Located at:
Ocean Financial Centre
10 Collyer Quay
Singapore 049315
Living World Series by Ju Ming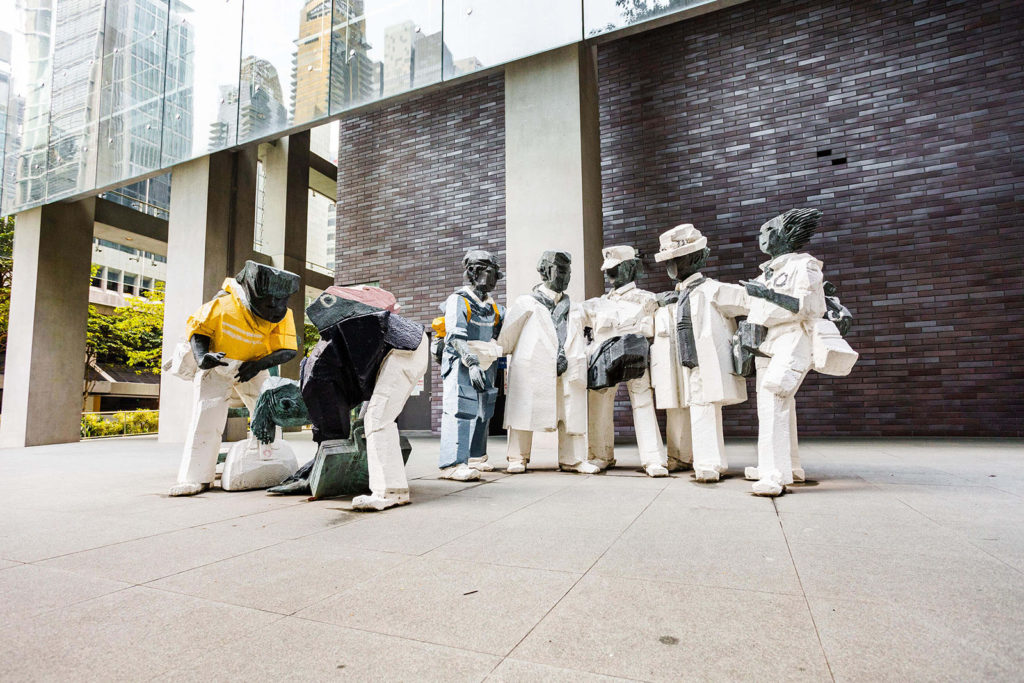 Consisting of 10 figures standing together but partially divided into clusters to signify their different roles to play, the Living World Series is a lighthearted take on the collective humanity which encompasses everyone, highlighting the different roles we take on at various stages of our lives.
The figures are complete with their own accessories and colorful apparel to further accentuate the variety of the different characters they portray. 
As to what roles these figures represent – be it CEOs, delivery personnel, bankers or secretaries – take a look and decide for yourself.
Located at:
CapitaGreen
138 Market Street
Singapore 048946
Harmony by Yu Yu Yang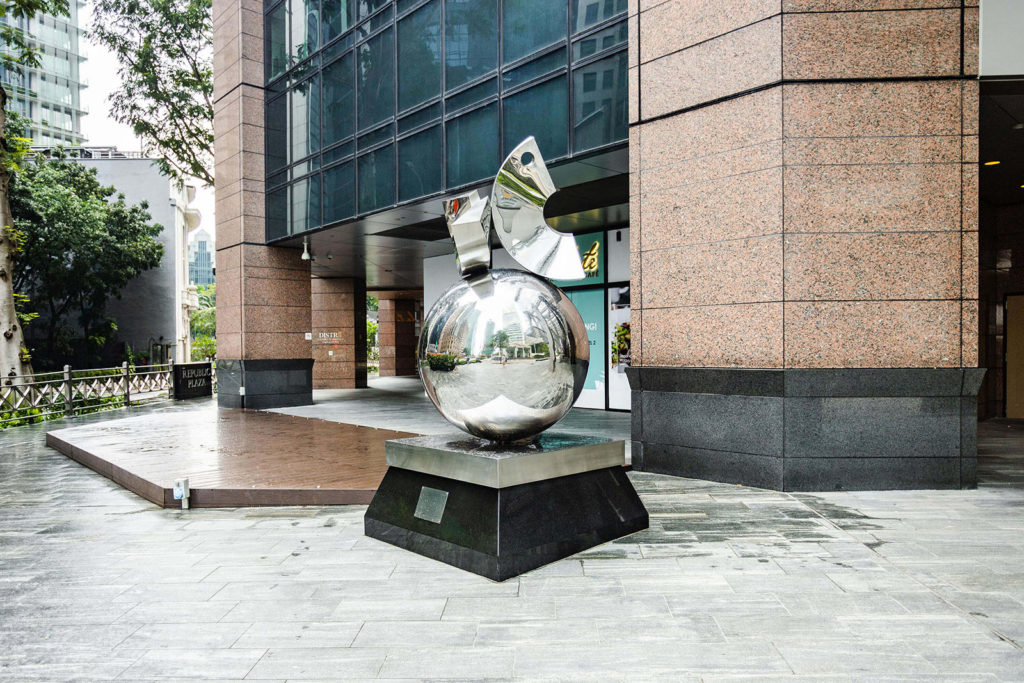 Incorporating abstract concepts and themes, 'Harmony' conveys a message of both culture and identity, along with fortune, beauty and elegance as depicted by this sculpture's portrayal of a phoenix and youthful dragon connected as one. 
The semi-circular pieces on the top of the sculpture symbolises the Mandarin character for Man "人" (rén). This is connected to the Earth, which is illustrated by the circular sphere beneath it.
When combined, the elements resemble the Mandarin character for Cooperation "合" (hé). This depiction of Man joined to the Earth is said to signify harmony and boundless energy.
Located at:
Republic Plaza
9 Raffles Place
Singapore 048619
All the Essentially Essential by Tan Wee Lit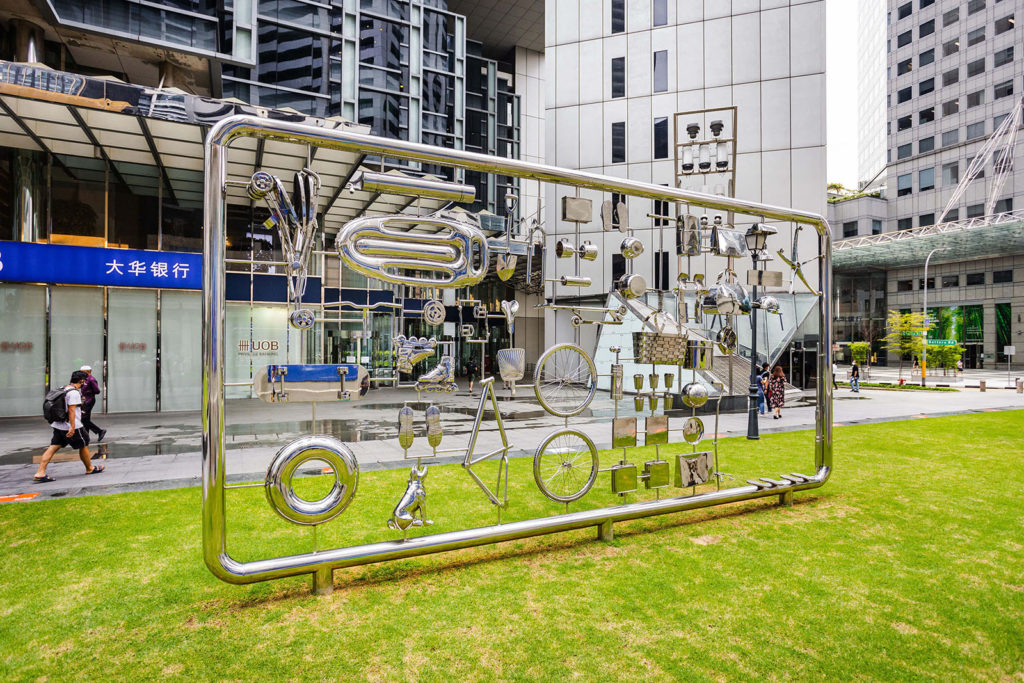 A winner of the biennial CDL Singapore Sculpture Award, this creative and light-hearted installation which resembles a steel model toy construction kit, contains a collection of items which an individual in the city may possess. 
Featuring items such as a briefcase, keyboard, bicycle parts, pool float, roller skates and shoes, the installation reflects the 'work hard, play hard' lifestyle of an average Singaporean seeking a balance between life and work.
According to the artist, the intentional omission of the human element within the kit serves as a reminder that life is never complete without a person's spirit and aspirations. Step into the empty space in the sculpture for a photo opp, to complete the kit and be the final piece of the puzzle.
Located at:
Raffles Place Park (outside 1 Raffles Place)
Singapore 048616