Ever looked to Singapore's astounding skyline and wondered about the stories behind each skyscraper? Find out more about the architect's process and inspiration as we explore the stories behind these iconic buildings in Raffles Place.
Bank of China Building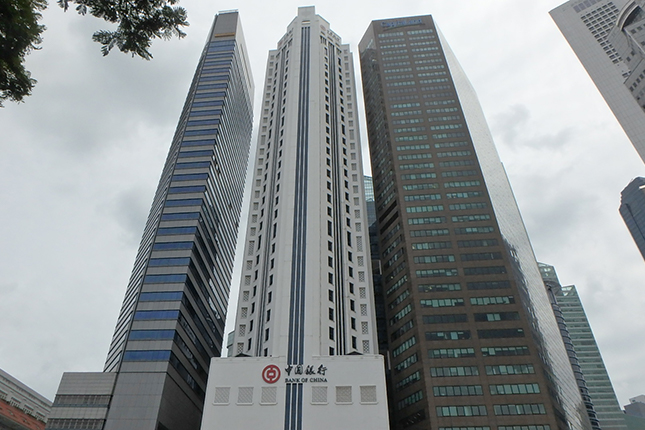 Photo Credit: Roots.sg
Designed by architectural firm Palmer and Turner Architects & Engineers Ltd, the Bank of China building was the first of its kind at the time. First built in 1953, the tower stood as the tallest in Singapore for 20 years and the first in the country to be centrally air-conditioned, showing off the latest modern facilities available in its era.
The Bank of China building was designed as a reflection of the beginning stages of modern Singapore architecture, through the use of modern reinforced concrete construction and metal frame windows. Hints of Chinese elements, such as oriental mouldings on the building's façade, were also incorporated to pay homage to its roots. 
The symmetry of the structure symbolised a modern outlook, uncommon in the country at the time, while the plaster finish was added to attain an enduring gracefulness. 
Address:
Bank of China
Bank Of China Building
4 Battery Rd
Singapore 049908
CapitaGreen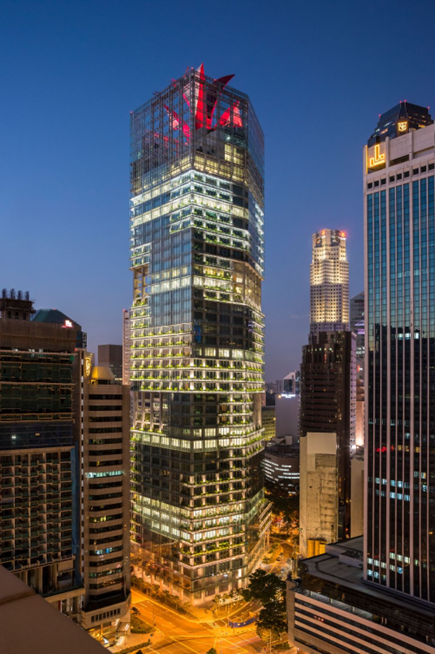 Photo Credit: CapitaLand
Completed in 2014, CapitaGreen is an ultra-modern office building that boasts 40 floors with expansive spaces and lush greenery in the heart of Raffles Place. 
The skyscraper was conceptualised by internationally acclaimed architect Toyo Ito as a living, breathing tree, which is why over half of the building's perimeter façade is covered with plants. 
Ito described Singapore as what used to be a "sumptuous forest", and envisioned CapitaGreen to be a resurrection of these forests by means of new architecture. Creating a "new symbol for 21st century Singapore" by replacing the greenery that would have been, in the form of CapitaGreen's façade and roof.
But all that talk about going green isn't just a design idea, it is also how the building operates. CapitaGreen has incorporated many eco-friendly features, of which have been recognised in the form of environmental awards. Even the large sculpture atop acts as a funnel, channeling cool breezes from higher altitudes and fresh air from the Sky Forest on its upper floors down to the lower levels. 
Address:
CapitaGreen
138 Market Street
Singapore 048946
CapitaSpring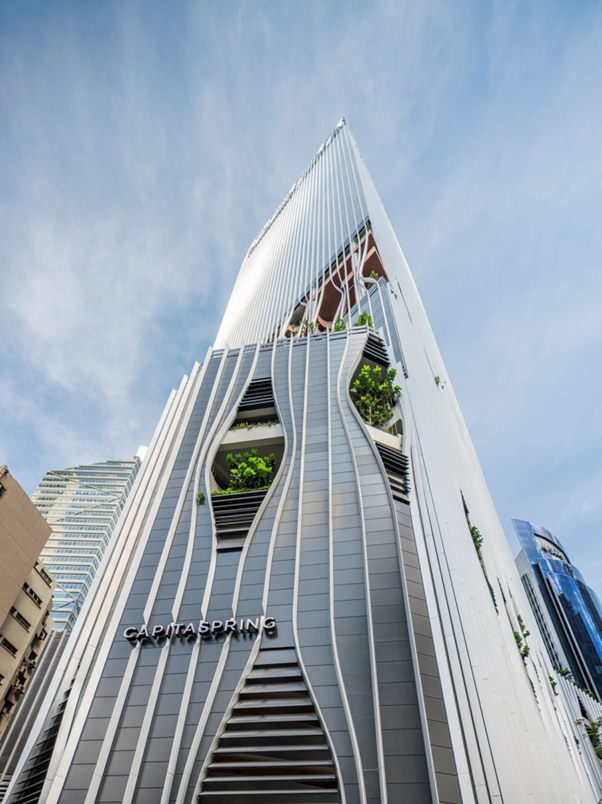 Photo Credit: CapitaSpring
CapitaSpring is the newest tower to join the ranks of Singapore's top three tallest skyscrapers, standing at an astonishing 280 meters with over 50 levels. 
Designed by Bjarke Ingels Group in collaboration with Carlo Ratti Associati, CapitaSpring is described as an oasis in the middle of Singapore's bustling central business district. The tower is a rounded blend of urban life and tropical nature. 
Its exterior façade uses vertical elements, stretched apart to allow peeks into the green blooming from the tower's base, core and rooftop. The building is meant to display an "interplay of orthogonal lines interwoven with tropical vegetation". It is also home to Singapore's tallest urban farm on the Sky Garden at level 51. 
Address:
CapitaSpring
88 Market Street
Singapore 048948
Republic Plaza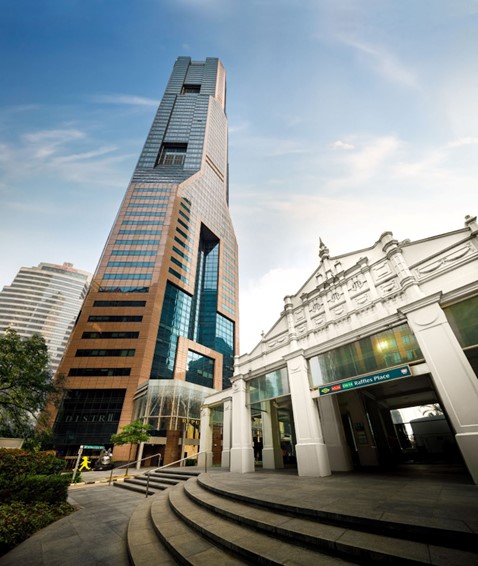 Photo Credit: Republic Plaza
Described as an arresting landmark with the timeless beauty of a quartz crystal, Republic Plaza is designed by world-renowned architect Dr Kisho Kurokawa. Standing at 66 storeys, the skyscraper was one of the three tallest buildings in Singapore at the time of completion.
Clad in pink polished granite and large expanses of tinted glass, Republic Plaza's premium quality finishes boast stature and stance. When illuminated by the sun, the tower's crystal cut exudes energy, while the ziggurat-styled crown shines like a beacon on Singapore's skyline at night. 
To the everyday person, the 45-degree turn at the upper part of the building may seem like an artistic venture, but scale up to the upper floors and you'll find that the turn provides viewers with a high-rise, panoramic harbour and sea view. 
Republic Plaza's grandeur and quality has earned it recognition worldwide. In addition to the Prix d'Excellence Award by FIABCI, Republic Plaza was ranked among the 21 exemplary world-class skyscrapers by the Institut Francais d' Architecture. 
Address:
Republic Plaza
9 Raffles Place
Singapore 048619
OCBC Centre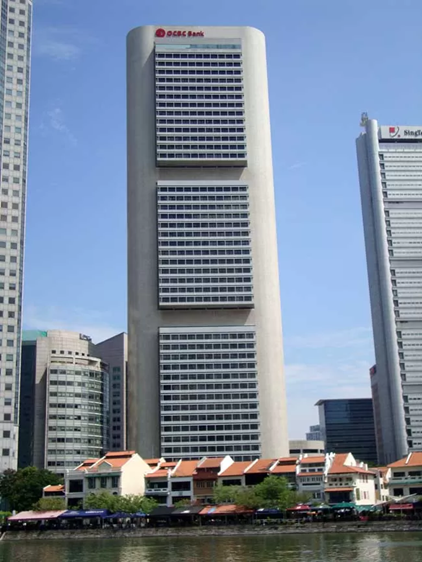 Photo Credit: e-Architect
OCBC Centre was designed by American architect I.M. Pei, one of the most famous architects of the 20th Century. 
Originally planned to be composed of raw concrete, it was later decided that the tower would be made of granite, after finding that concrete was inclined to discolour to an indigenous fungus. 
The strong nature of the building is a result of Brutalist architecture, which is characterised by a massive, monolithic appearance. This style was specifically chosen to express OCBC's values as a stable and reliable bank for its clients. 
Address:
OCBC Centre
65 Chulia St
Singapore 049513
Ocean Financial Centre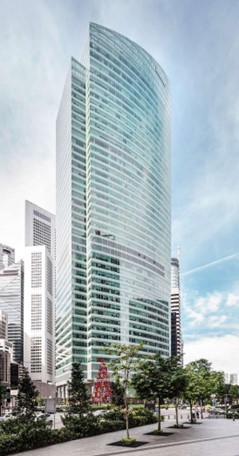 Photo Credit: Keppel Land
As part of the iconic skyline on one of Singapore's historic commercial avenues, Ocean Financial Centre was designed by world-renowned architectural firm Pelli Clarke Pelli, to celebrate the country's maritime heritage. 
The façade of Ocean Financial Centre is reminiscent of a ship's sail, tying in with Singapore's history as one of the world's great commercial centres. 
The 245-meter-tall skyscraper was completed in 2011. With 43 floors, Ocean Financial Centre offers over 874,000 square feet of premium office space, with room for retail development in Ocean Colours on the ground and basement levels. 
Address:
Ocean Financial Centre
10 Collyer Quay
Singapore 049315
One Raffles Place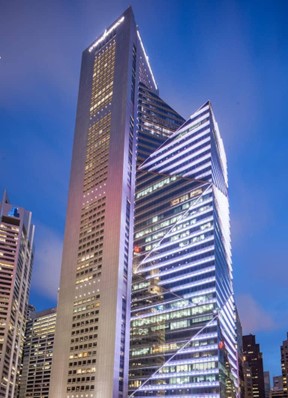 Photo Credit: One Raffles Place
Comprising two separate towers and a podium, One Raffles Place is among the first buildings you'll see coming out of Raffles Place MRT Station. 
What used to be the Overseas Union Bank (OUB) Centre, is now Tower 1 of One Raffles Place and is believed to be a monumental piece of architecture in Singapore's financial centre. Completed in 1986 and designed by the late Professor Kenzo Tange, Tower 1 was the tallest building in Asia at the time and is still one of the tallest in Singapore. 
Tower 1 consists of two triangular structures, creating a sharp, sleek yet powerful façade with its solid aluminium exterior. The landmark has won numerous awards over the decades. Years after Professor Kenzo Tange's passing, the task of designing the second tower was taken on by his son, Paul Noritaka Tange. 
The second tower takes on the legacy of the first, complementing it to form One Raffles Place together in Singapore's skyline.
Paul Tange showcased his architectural and artistic flair with his own contemporary façade for Tower 2, all while honoring the design elements of Tower 1. 
The design incorporates modernity while maintaining a balance of his father's work on this landmark. 
Address: 
One Raffles Place 
Singapore 048616
+65 6491 9201