In Singapore's bustling Central Business District, busy go-getters race through the day and sometimes even through the night. But slow down and you'll find art that you might normally miss in the busyness of your day at Raffles Place.
Here are some art pieces you can find in the precinct waiting to be discovered and enjoyed.
Proliferating Immense Life – Sunrise and Sunset, A Whole Year per Year (CapitaSpring)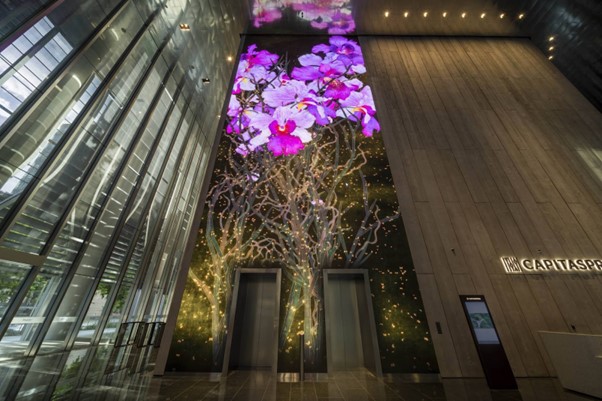 'Proliferating Immense Life – Sunrise and Sunset, A Whole Year per Year' by teamLab
Photo Credit: teamLab
Produced by renowned international art collective teamLab, the digital piece is a dynamic artwork of vibrant florals that reacts to its environment. As the sun rises everyday, so does the artwork. With sunset, the piece adopts darker tones as the sun goes down. The flowers displayed change with the seasons as well. 
The floral artwork is created by a computer programme that continuously renders the artwork in real time across 2,160 LED screens. When the piece detects people passing by, butterflies and flowers scatter. When the elevator doors open at the artwork's base, a similar interaction occurs. 
Spanning 18 metres and standing at nearly 6 levels tall, the piece is ever changing and no two frames are exactly the same. Return every once in a while to find a different collection of images to take in.
Awan (CapitaSpring)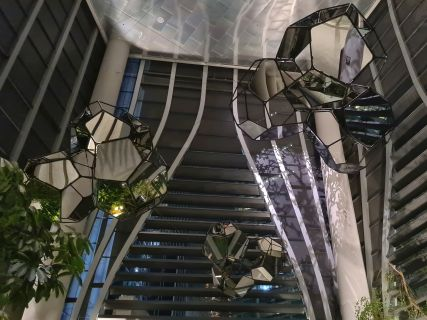 Photo by ArtEngineering GmbH
Also at CapitaSpring in the 'City Room' on the same floor, is Awan, a sculpture by Tomás Saraceno. The reflective piece is inspired by the artist's exploration of the vast sea of possibilities in future autonomous and sustainable environments, architecture and urbanism. 
Saraceno uses his work as a platform to propose utopian visions of cities, settlements and gardens, floating in the air with only the need for energy of natural sources to keep it alive. 
Address:
CapitaSpring
88 Market Street
Singapore 048948
+65 6983 5118
Waterfall (Six Battery Road)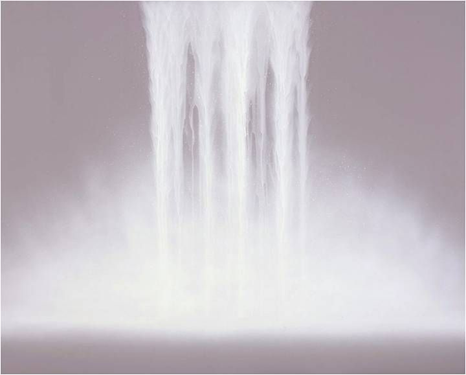 'Waterfall, 2009' by Hiroshi Senju
Photo Credit: CapitaLand
A monochrome waterfall painting was made each year from 2009 to 2011 and all three were created by celebrated contemporary artist Hiroshi Senju. 
The pieces were created using traditional materials, rice paper and mineral pigments which were made by Senju himself. The paintings were  created by pouring wet paint along the top of the paper and allowing it to flow down naturally, leaving a naturally beautiful trace. Senju then used an airbrush to masterfully create a misty effect at the foot of the waterfalls.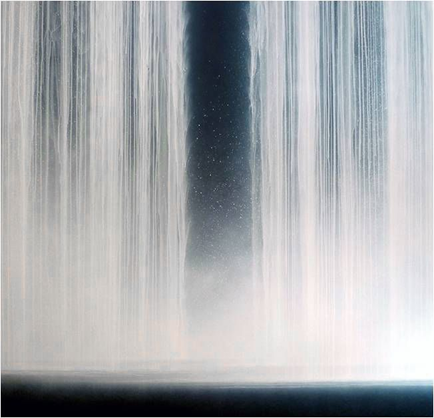 'Waterfall, 2010' by Hiroshi Senju
Photo Credit: CapitaLand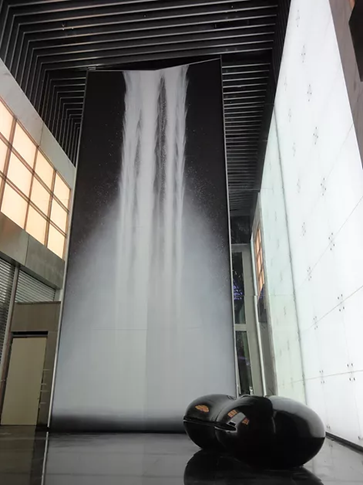 'Waterfall, 2011' by Hiroshi Senju (feature at One Raffles Place)
Photo Credit: Silver Rue Art Consulting
You can find these beautiful pieces at Six Battery Road – Waterfall, 2009 and Waterfall, 2010, Waterfall 2011 in the High Rise, Mid RIse and Low Rise lobbies of Six Battery Road on Level One and Waterfall, 2011 at One Raffles Place's Office tower lobby.
These amazing pieces were specially acquired for the building to give its lobby a distinct visual quality.
Address:
One Raffles Place 
1 Raffles Place
Singapore 048616
Address: 
Six Battery Road 
6 Battery Road
Singapore 049909
Prestige Art Gallery (Bank of Singapore)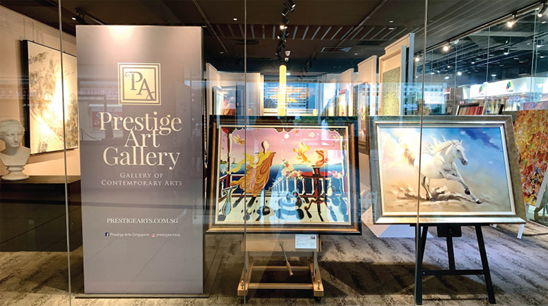 Photo Credit: Prestige Art Gallery
Located on the first floor of the Bank of Singapore Centre is one of two Prestige Art Galleries.
Established in 2019, Prestige Art Gallery promotes contemporary art and sculpture from Singapore, China and more. 
The gallery focuses on modern and contemporary Asian art and acts as an agent while encouraging more local and foreign painters to pursue full-time careers in the arts.
Exhibitions are regularly held so head down to the Bank of Singapore building to view exclusive works by sculptors like Li Guangyu and Cai Wenjia.
Address:
Prestige Art Gallery
Bank of Singapore Centre
63 Market Street
#01-01, Singapore 048942
+65 6282 0678
Hours (Prestige Art Gallery):
Mondays to Sundays 11am – 8pm
Complex Simplicity (Ocean Financial Centre)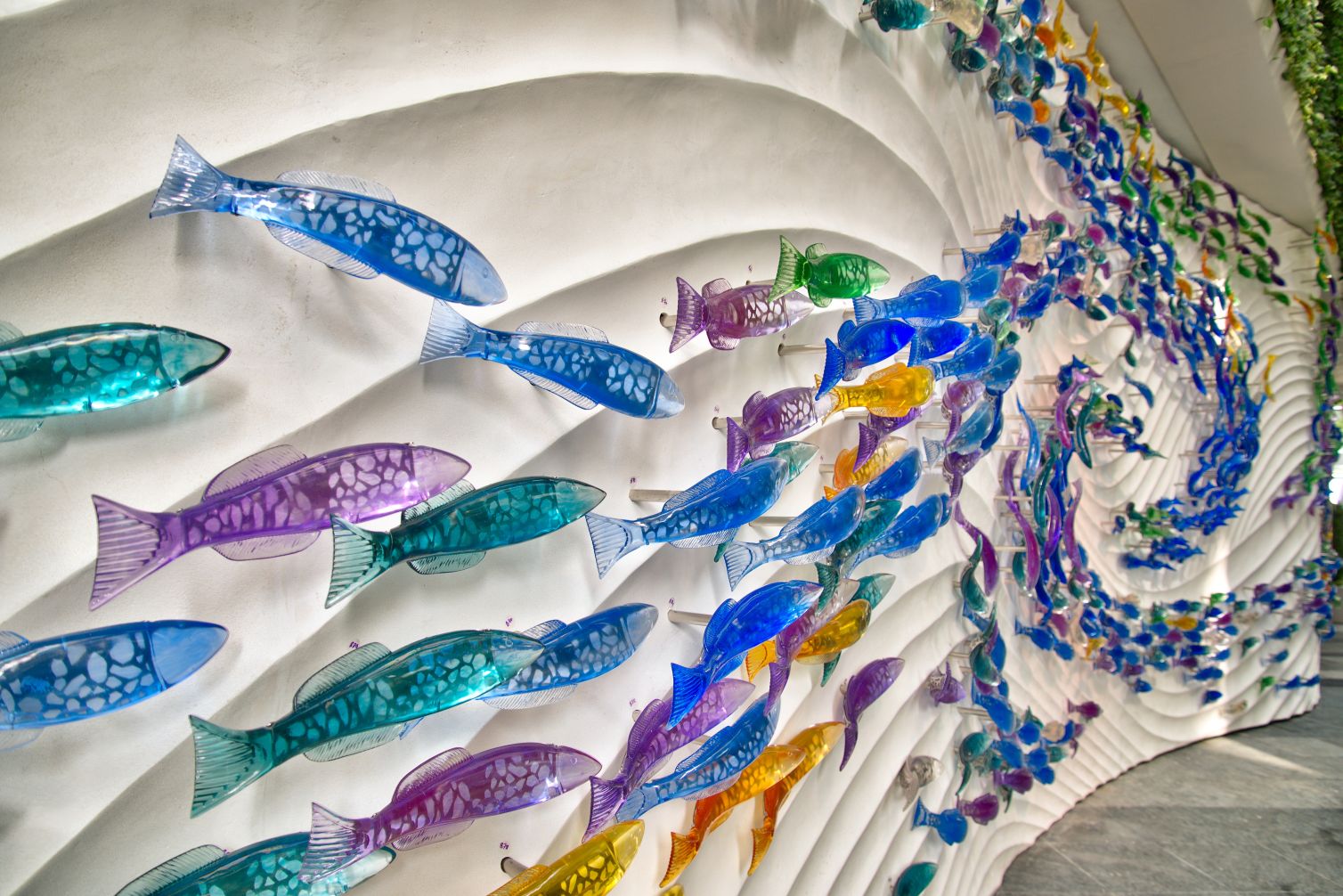 'Complex Simplicity' by Jane Cowie and Art-2 Gallery
Photo Credit: Keppel
Made of cast lead-crystal glass, stainless steel and marble composite materials, Complex Simplicity was pieced together by Jane Cowie in association with Art-2 Gallery and has been displayed at Ocean Financial Centre since 2014. 
Developed by Keppel Land and majority-owned by Keppel REIT, Ocean Financial Centre is an eco-icon located in the heart of Singapore's financial district. Complex Simplicity is one of three art installations commissioned by Keppel Land to adorn Ocean Financial Centre and bring colour and culture into the heart of the city. 
The piece illustrates the closely connected multicultural society that is Singapore. The school of fish acts as a metaphor of the artist's perspective about culture and community, as well as collaboration and consensus, and how in Singapore, the people come together to achieve much more as a group than as individuals.
Address:
Ocean Financial Centre
10 Collyer Quay
Singapore 049315