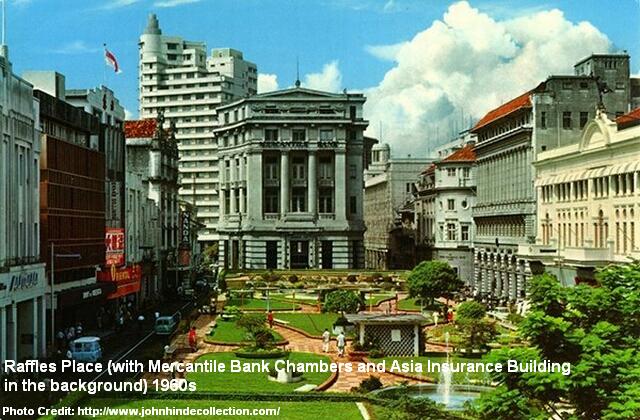 Image Credit: http://johnhindecollection.com/
Raffles Place may be a tiny smudge on Google Maps within this tiny red dot called Singapore. Yet, this financial hub has reinvented itself multiple times over the years. Let us count the ways.
Raffles Place was Once a Place of Work and Home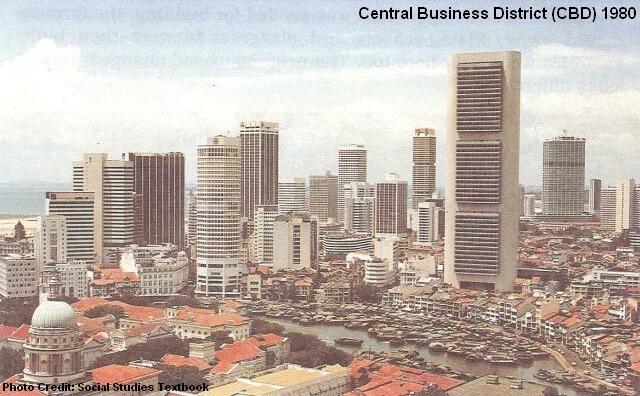 Image credit: RememberSingapore.sg / Social Studies Textbook
It first emerged from reclaimed swamp land in 1823 as Commercial Square. Bustling with godowns, offices and department stores, many merchants also lived above their offices [1]. Talk about #WFH.
Today, Raffles Place is still the heart of Singapore's financial district. It overtook Shenton Way in the 1980s to be the preferred location for banks. And also known as the Wall Street of Singapore.
Bonus fact: Sir Stamford Raffles oversaw the development, which he intended as a "great commercial emporium". In recognition of his foresight, Commercial Square was renamed as Raffles Place on 8 March 1858 [2].
The Original Daimaru had its roots in Raffles Place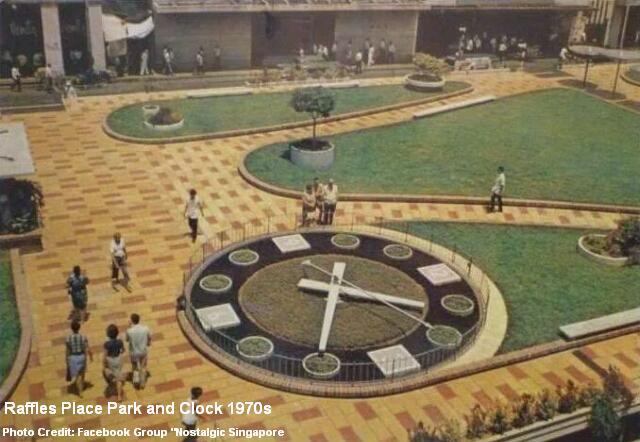 Image credit: RememberSingapore.sg / "Nostalgic Singapore" Facebook Group

As the epicenter of trade, Raffles Place was unfortunately marked by the Japanese during their first air raid on Singapore [3]. This took place on 8 December 1941, during the Battle of Malaya.
Japanese forces later occupied John Little's four-storey building at Raffles Place and replaced it with Daimaru [4], a Japanese department store. The store, along with two others, were tasked to run dormitories for Japanese soldiers and supply military goods to the army.
Interestingly, a quarter of a century later, Japanese watchmaker, Seiko, donated a giant $58,000 flower clock to adorn the rooftop garden at Raffles Place Park [5]. A timely reminder, perhaps, that all things will come to pass.
Raffles Place Made the News Headlines on 8.8.88
The number '8' is considered a lucky number by the Chinese and Toto punters alike! It was certainly an auspicious enough date on 8 August 1988 for Singapore's founding father, then Prime Minister Lee Kuan Yew, to officially launch the OUB Centre at 1 Raffles Place.
At the time of its launch, this 60-storey building was also the world's tallest building outside of the United States [6].
Towering at 280 metres, OUB Centre overlooked the Singapore River, its harbour and neighbouring islands. In fact, OUB Centre shared that distinction with two other vertically superior skyscrapers in the area – neighbouring Republic Plaza and UOB Plaza. Up till 2016, the three were tied as the tallest buildings in Singapore.
One of the Largest Fires in Singapore's History Took Place Here
One of the largest fires in Singapore's history transpired at Raffles Place in 1972. The landmark, Robinsons Department Store – set up in 1858 as a family warehouse, Spicer & Robinson – was razed to the ground. Over $21 million (about $130 million in 2020) worth of property and Christmas goods perished in flames.
The conflagration could be seen from as far as Jurong. The fire, unfortunately, claimed nine lives, including a pregnant woman. The cause was later found to be a short circuit on the ground floor, which sparked the blaze [7].
Raffles Place is Chockablock with Many Historic Firsts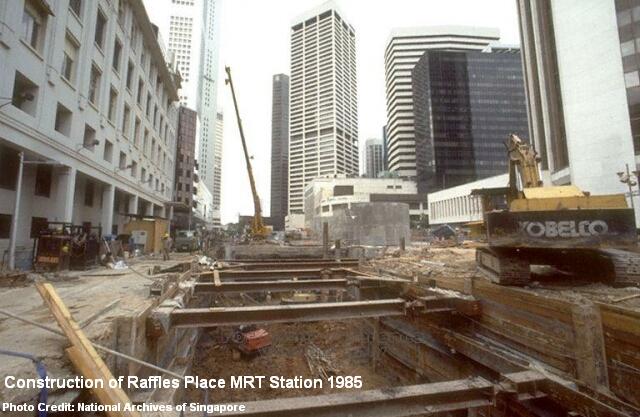 (Image credit: RememberSingapore.sg / National Archives of Singapore)

Did you know that Singapore's first indoor shopping arcade was at the Alkaff Arcade in Raffles Place [8]? Built in 1909, the arcade stretched from the waterfront of Collyer Quay to Raffles Place. Small shops sold a wide range of imported goods, catering to office workers. This Moorish-styled property was demolished in 1978 to make way for a 17-storey retail and office building, The Arcade.
Raffles Place also hosted Singapore's first large-scale underground carpark in 1965 [9]. This 250-lot structure was designed to relieve traffic and parking congestion. The carpark also featured an underground subway leading directly to the basement of Robinsons Department Store – a boon to late-night shoppers then.
The carpark made way for Raffles Place MRT Station in 1987. The station was the deepest and largest MRT station in Singapore, until Dhoby Ghaut MRT Station came along in 2003.
Raffles Place MRT Station is also one of four MRT stations to appear in the "Uniquely Singapore" Special Edition of the Monopoly board game [10].
In 1997, Raffles Place was declared a historical site by the National Heritage Board [11]. The rest, as they say, ahem, is history.
Footnotes
[1] Raffles Place, by Cornelius-Takahama, Vernon, Singapore infopedia – Citation taken from Tyers, R. K. (1993). Ray Tyers' Singapore: Then & now. Singapore: Landmark Books, p. 96. (Call no.: RSING 959.57 TYE-[HIS])
[2] Raffles Place, by Cornelius-Takahama, Vernon, Singapore Infopedia
[3] Bombing of Singapore (1941), Wikipedia – citation taken from First bomb raid on Singapore, Chua, Jeanne, 29 September 1997, archived from the original on 26 December 2008, retrieved 20 January 2010
[4] John Little, by Chia, Joshua Yeong Jia, Singapore Infopedia – citation taken from Bayly, C.A., & Harper, T.N. (2005) Forgotten armies: The fall of British Asia, 1941-1945. Cambridge, Mass: Belknap Press of Harvard University Press, p. 230. (Call no.: RSEA 940.5425 BAY-[WAR]); Shimizu, H. (1999). Japan and Singapore in the world economy: Japan's economic advance into Singapore, 1870­-1965. London: Routledge, New York, p. 124. (Call no.: RSING 337.5205957 SHI)
[5] Seiko Clock at Raffles Place – 1965, Yeoman's Weblog
[6] Speech by Mr Tharman Shanmugaratnam, DPM and Minister for Finance at the Opening of One Raffles Place Tower Two on Tuesday 18 September 2012 at 7.00pm, para 3
[7] Robinsons to close stores: Down memory lane with one of S'pore's oldest home-grown department stores, 31 Oct 2020, Straits Times
[8] Time stands still at Singapore's veteran shopping malls, 13 Jun 2012, Remember Singapore
[9] Speech by Minister Lawrence Wong at the Launch of the "Underground: Singapore's Next Frontier" Exhibition, 30 May 2018
[10] Raffles Place MRT Station, Wikipedia
[11] Raffles Place, Wikipedia – citation taken by Hoe, I. (1997, September 28). Raffles is the Place to be. The Straits Times, p. 45. Retrieved from NewspaperSG
This article was published on 30 January 2020.