Feeling the heat at work this time of the year? Remember to keep an eye on your mental health. In the same way our bodies can be overworked, our mental wellbeing must also be taken care of. Here at Raffles Place, we put great emphasis on making your wellbeing a priority. 
Keeping a healthy state of mind takes practice. We've compiled a simple list of things you can do to practice mindfulness and be in the moment, right here at Raffles Place.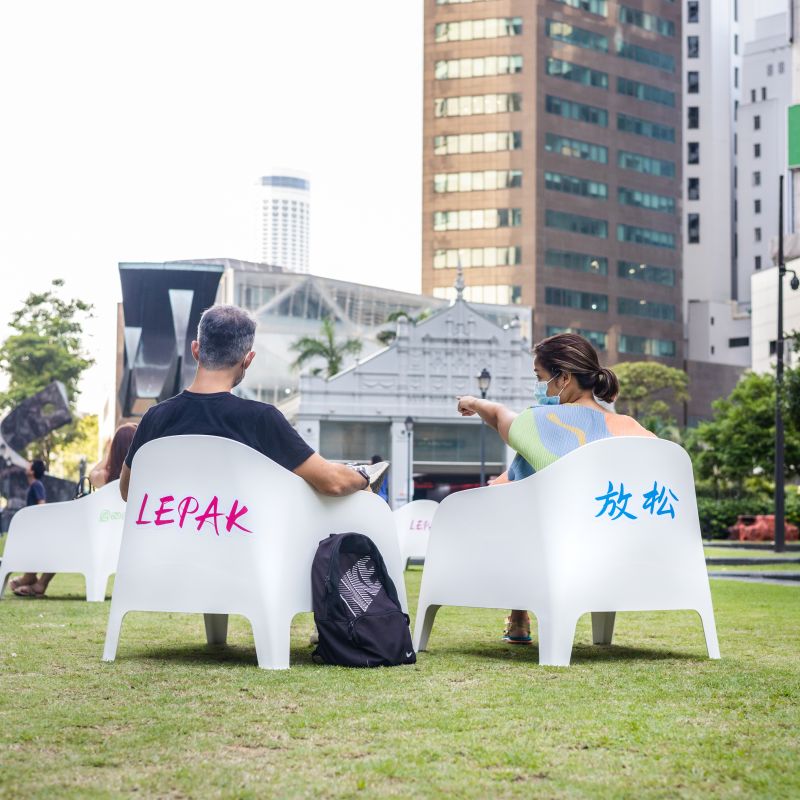 Have a seat, bask in the sun
Did you know that exposing our bodies to sunlight helps to boost our mood? Sunlight cues special areas in our eyes, which triggers the release of serotonin, which helps mitigate the risk of depression and anxiety.
While the exact amount varies for each individual, experts recommend that we spend an average of 20 minutes a day in the sun, with our face, arms and hands exposed. 
Try getting some sun during your lunchtime in Raffles Place. Head down to Raffles Place Park and take a seat on #RPchairs and bask in the sunlight! 
Take your pick from a variety of seats – sturdy wooden dice blocks to armchairs or shapeshifting beanbags, have a seat in one of these chairs, chat with your colleagues and get your daily dose of Vitamin D.
The chairs are available in Raffles Place Park until February 2023.
Take a breath of fresh air
Nature plays a crucial part in keeping our mental, emotional and physical states in check. Spending time in nature can elicit positive emotions, such as serenity, joy, creativity and can even facilitate concentration. 
Several buildings in Raffles Place have integrated nature into their architecture and are open for all to enjoy.
Ocean Financial Centre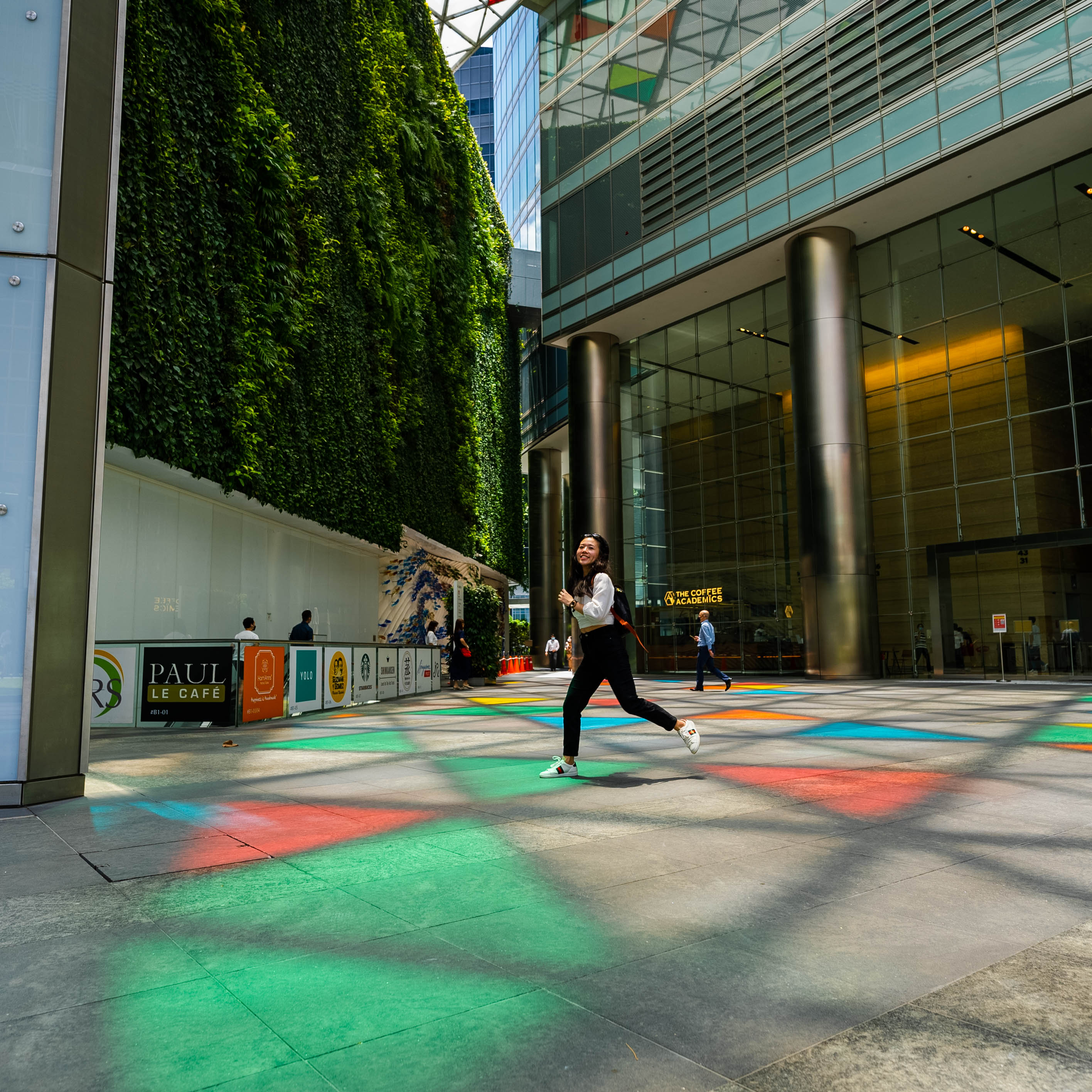 Known for its prominent silhouette of a ship's sail and its massive green wall, Ocean Financial Centre is hard to miss. The 19 by 110 metre green wall equals the size of about 5 basketball courts and even doubles as a green filter for vehicular emissions from the large carpark on the ground floor. 
Address:
Ocean Financial Centre
10 Collyer Quay
Singapore 049315
Six Battery Road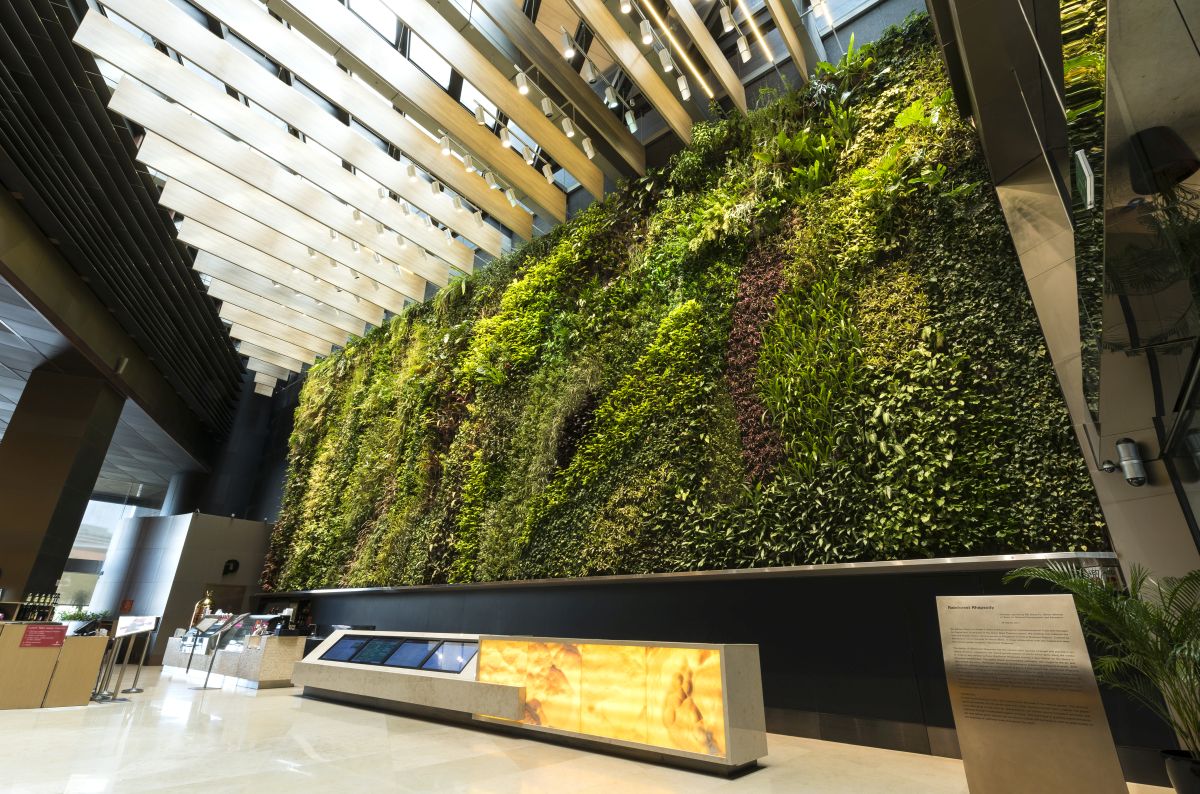 Photo Credit: CapitaLand 
Situated in the lobby of Six Battery Road, lies the 'Rainforest Rhapsody'. A stunning display of over 70 plant species in about a 2,000sq ft vertical garden. 
The arrangement and pattern of the greenlife is inspired by the natural growth plants in cracks of rocks and vertical surfaces. 
Address: 
Six Battery Road
Singapore 049909
Views from the skies
Sometimes taking a moment for ourselves at a scenic spot for a few moments is just what's needed. What better way to disconnect yourself from the world than to put yourself on top of it?
Here are some accessible spots to get a bird's eye view of the world and a different perspective.

CapitaSpring
Not only does CapitaSpring offer an experience with nature in Singapore's bustling CBD, it is also the country's tallest, publicly accessible observatory deck.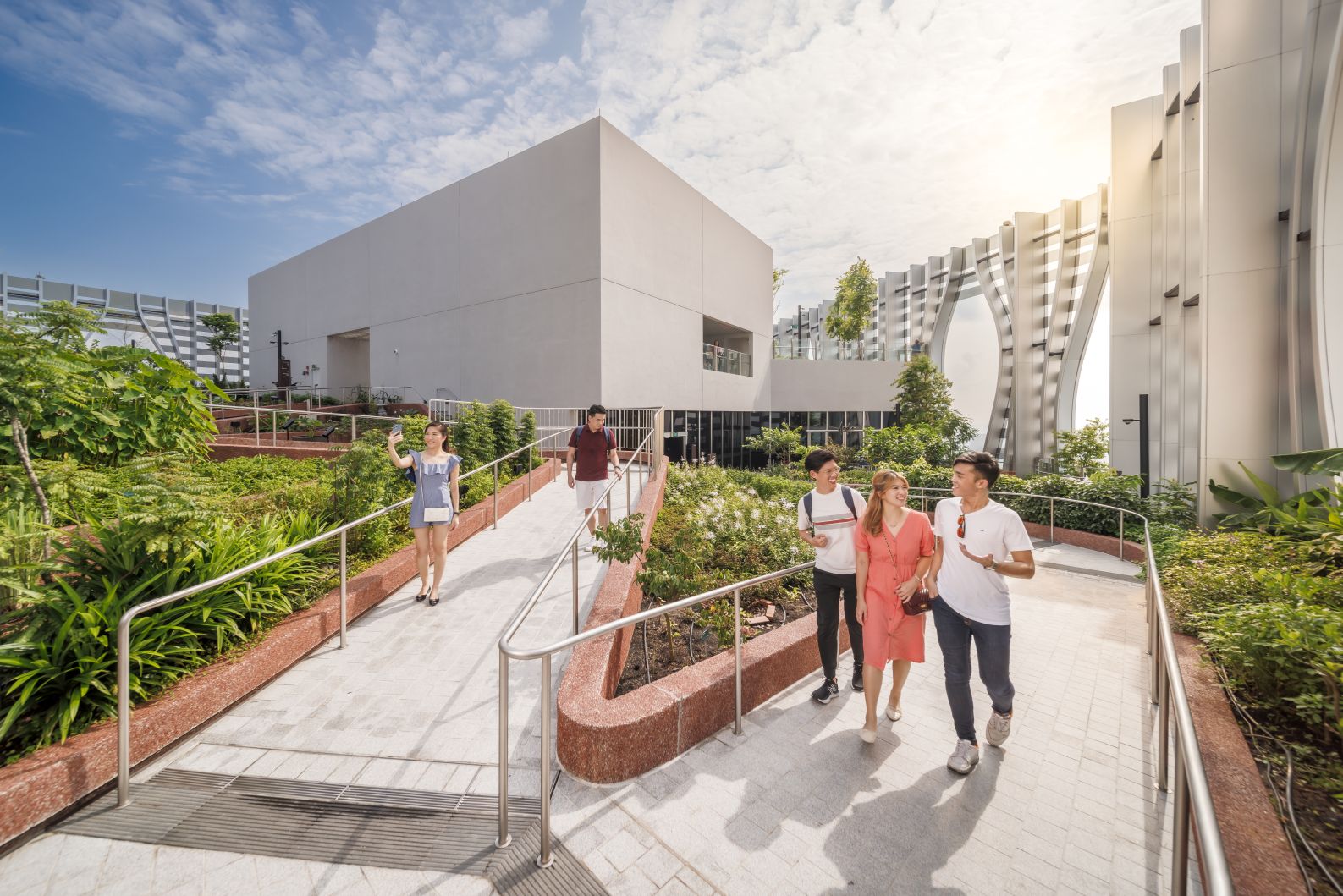 Photo Credit: CapitaLand
Soak in the 360-degree view of Singapore's cityscape on the top floor of the 280 metre CapitaSpring. Check out CapitaLand's website for more information.
Address:
CapitaSpring
88 Market Street
Singapore 048948
Hours:
Green Oasis (Level 17 – 20)
Mondays to Fridays 8:30 AM – 10:30 AM | 2:30 PM – 6 PM
Sky Garden (Level 51)
Mondays to Fridays 8:30 AM – 10:30 AM | 2:30 AM – 6 PM
*CapitaSpring tenants, Citadines guests and restaurant patrons will have access to visit either attraction between 10:30AM and 2:30PM. Only restaurant patrons are allowed after 6:00PM.*
Altro Zafferano (Ocean Financial Centre)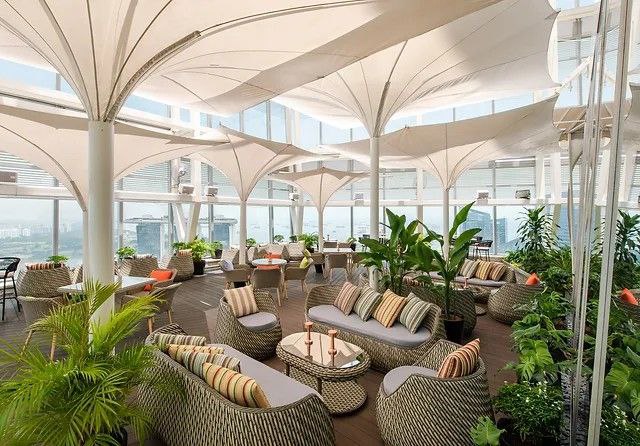 Photo Credit: Altro Zafferano
If you would like a meal with that view, visit the 43rd floor of the Ocean Financial Centre and dine alfresco with a panoramic view of Marina Bay at Altro Zafferano. The destination restaurant offers an immersive journey of contemporary Italian cuisine interpreted through South Italian lenses. 
Altro Zafferano 
Ocean Financial Centre
10 Collyer Quay, Level 43
Singapore 049315
+65 6509 1488
Hours:
Mondays to Saturdays 12 PM – 3 PM | 6 PM – 11 PM