Although we have adopted 'The Little Red Dot' as a humble nickname for our island, Singapore has built many world-renowned skyscrapers over the years, which continue to redefine its skyline as time goes by. Did you know that some of Singapore's tallest sky-scraping silhouettes are located right here in Raffles Place?  
Ocean Financial Centre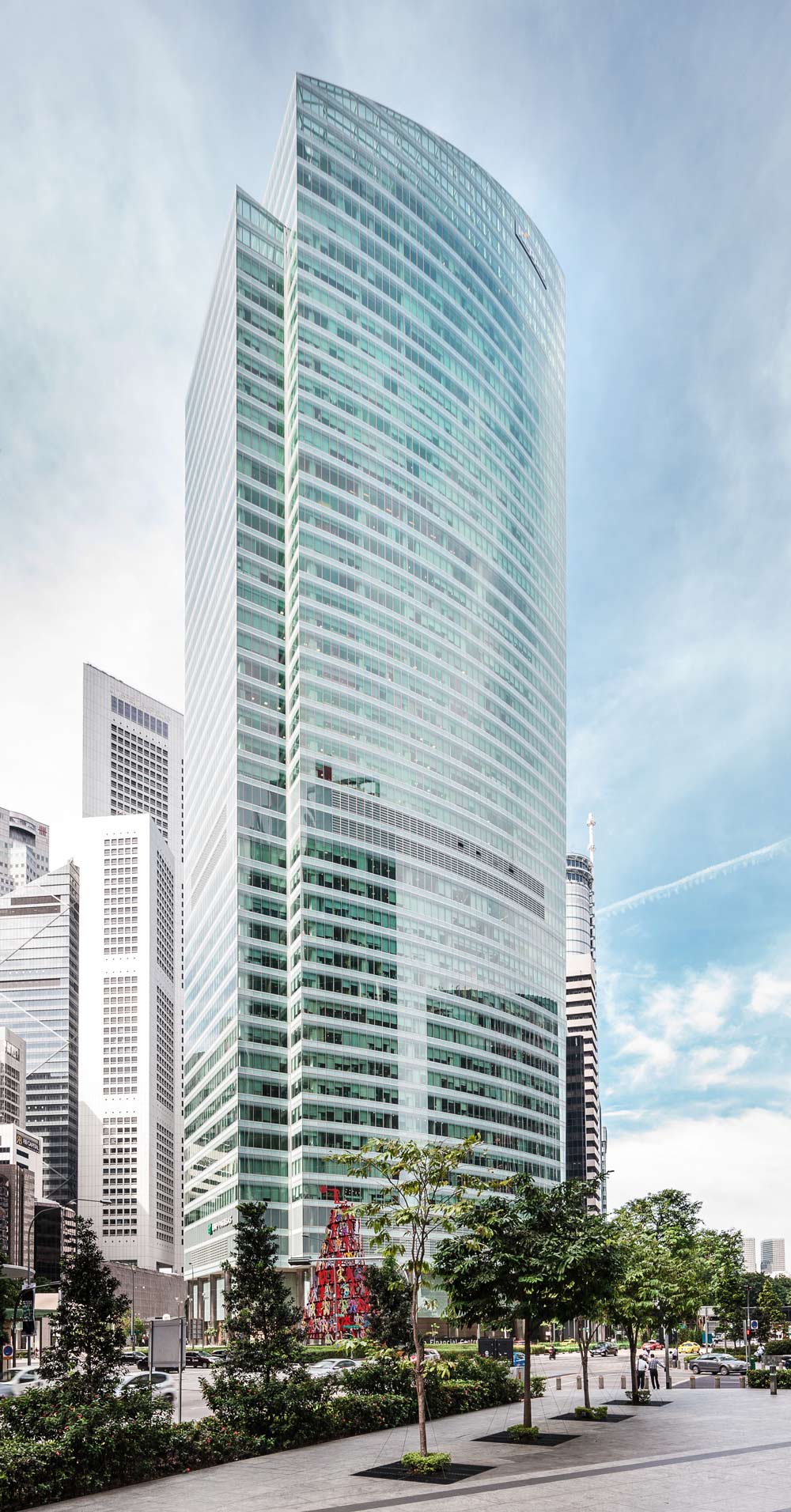 Photo credit: Keppel Land website
Starting off the list is Raffles Place's fourth tallest skyscraper – Ocean Financial Centre. The building ties with several other high-rises in Singapore as the 9th tallest building nationwide. 
Standing at 245 meters in height with 43 levels, Ocean Financial Centre's overall size in space covers about 876,000 square feet, most of which comprises Grade A premium office spaces.
Formerly known as Ocean Building, the current Ocean Financial Centre stands tall where its predecessor used to, carrying on its name and housing most of its former tenants. 
Now entering its 11th year, the landmark features the 'Ocean Colours' in its ground floor and basement levels, offering dining and retail options to the Raffles Place community.

Address:
Ocean Financial Centre
10 Collyer Quay
Singapore 049315
CapitaGreen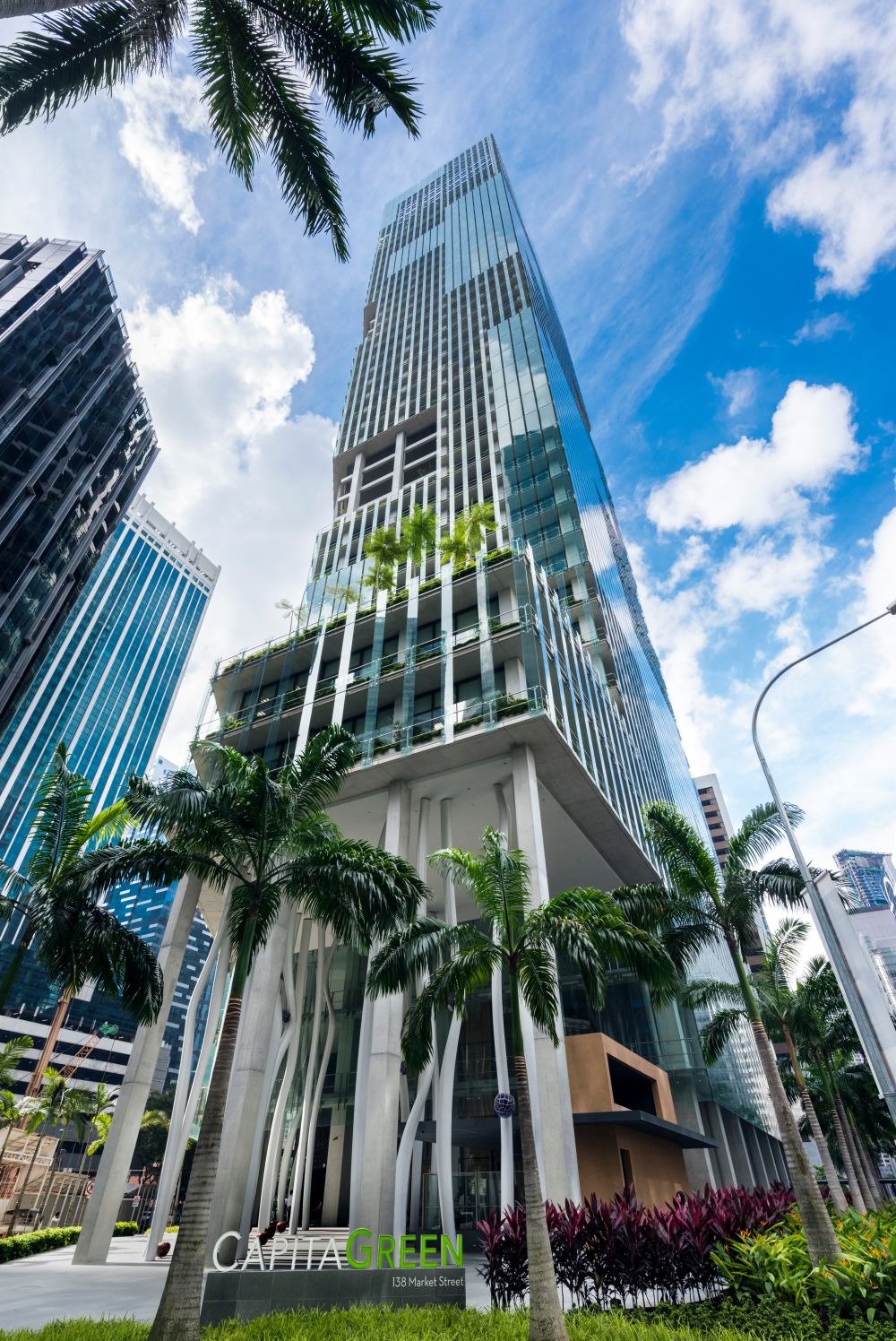 Photo credit: Capitaland website
Coming in at the same height as Ocean Financial Centre as one of the 9th tallest buildings in the country is CapitaGreen.
CapitaGreen is a Grade A commercial building with numerous awards under its belt, both local and international. The skyscraper measures 245 meters in height with 40 storeys and approximately 702,000 square feet of Grade A office spaces from level 3 to 36. There are exceptional facilities such as an exclusive club on level 38, and a sky forest and rooftop restaurant on level 40, Artemis Grill & Sky Bar.  
CapitaGreen features lush greenery and foliage in its design for both aesthetic reasons and functionality. The building promotes energy and water efficiencies, and improves indoor environmental quality and building performance, which won various green awards in recognition of its achievements.

Address:
CapitaGreen
138 Market Street
Singapore 048946
Republic Plaza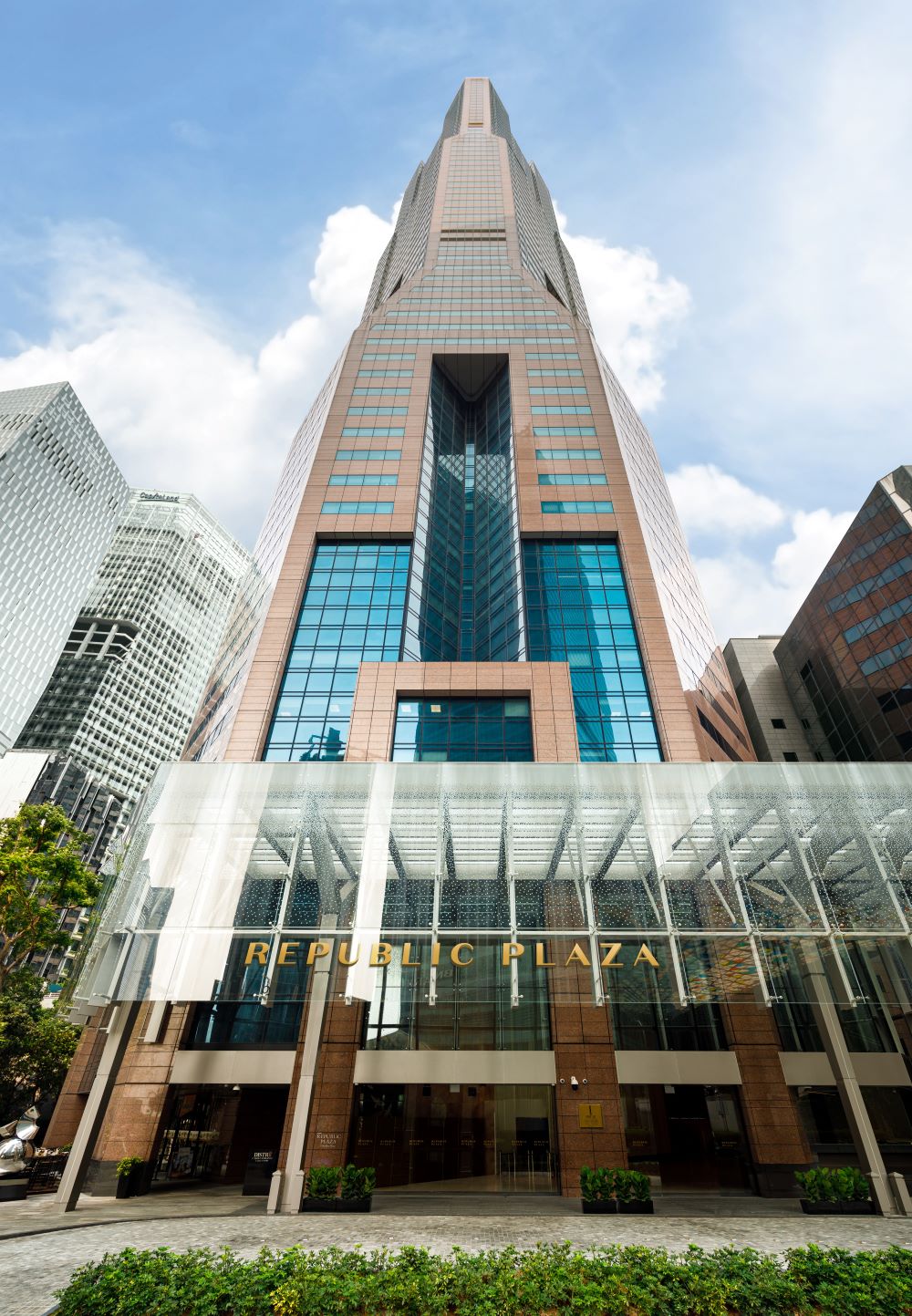 Photo credit: Republic Plaza
A stunning 66-storey tower, soaring to a height of 280 metres, Republic Plaza was one of the three tallest skyscrapers in Singapore at the time of completion. 
Completed in 1996, Republic Plaza features over 770,000 square feet of Grade A office space and a retail enclave that spans 3 levels, housing F&B and retail outlets of a variety of local and international cuisines. 
At the top of the building from Level 62 to 64 sits the Tower Club, a premier private club in Singapore, where business meets pleasure amidst breathtaking views of the city skyline. The club offers personalised services to members and guests, including premium dining and lounging experiences, in a private setting.
As of today, Republic Plaza is one of the four skyscrapers in Raffles Place to measure up to a height of 280 meters, the tallest in the area.

Address:
Republic Plaza 
9 Raffles Place
Singapore 048619
One Raffles Place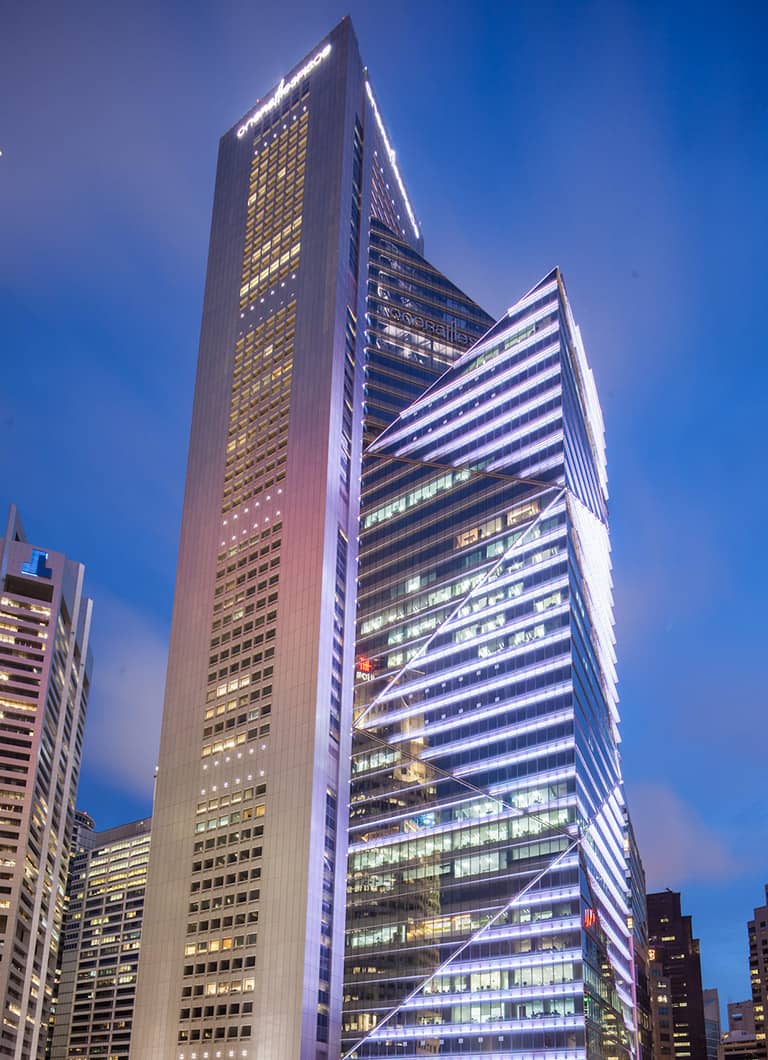 Photo credit: One Raffles Place Website
Tying for the tallest building in Raffles Place and placing fourth in Singapore is One Raffles Place (Tower 1).
Formerly known as the Overseas Union Bank Centre, the tower stands at 280 meters in height with 63 floors, 55 of which make up a total of 350,000 square feet of Grade A office spaces.
The tower has been part of Singapore's iconic skyline for decades, and currently features Singapore's highest sky terrace viewing gallery on its rooftop. Visitors can expect a stunning one-of-a-kind panoramic view of Singapore's skyline from the top.

Address:
One Raffles Place 
1 Raffles Place
Singapore 048616
+65 6491 9201
CapitaSpring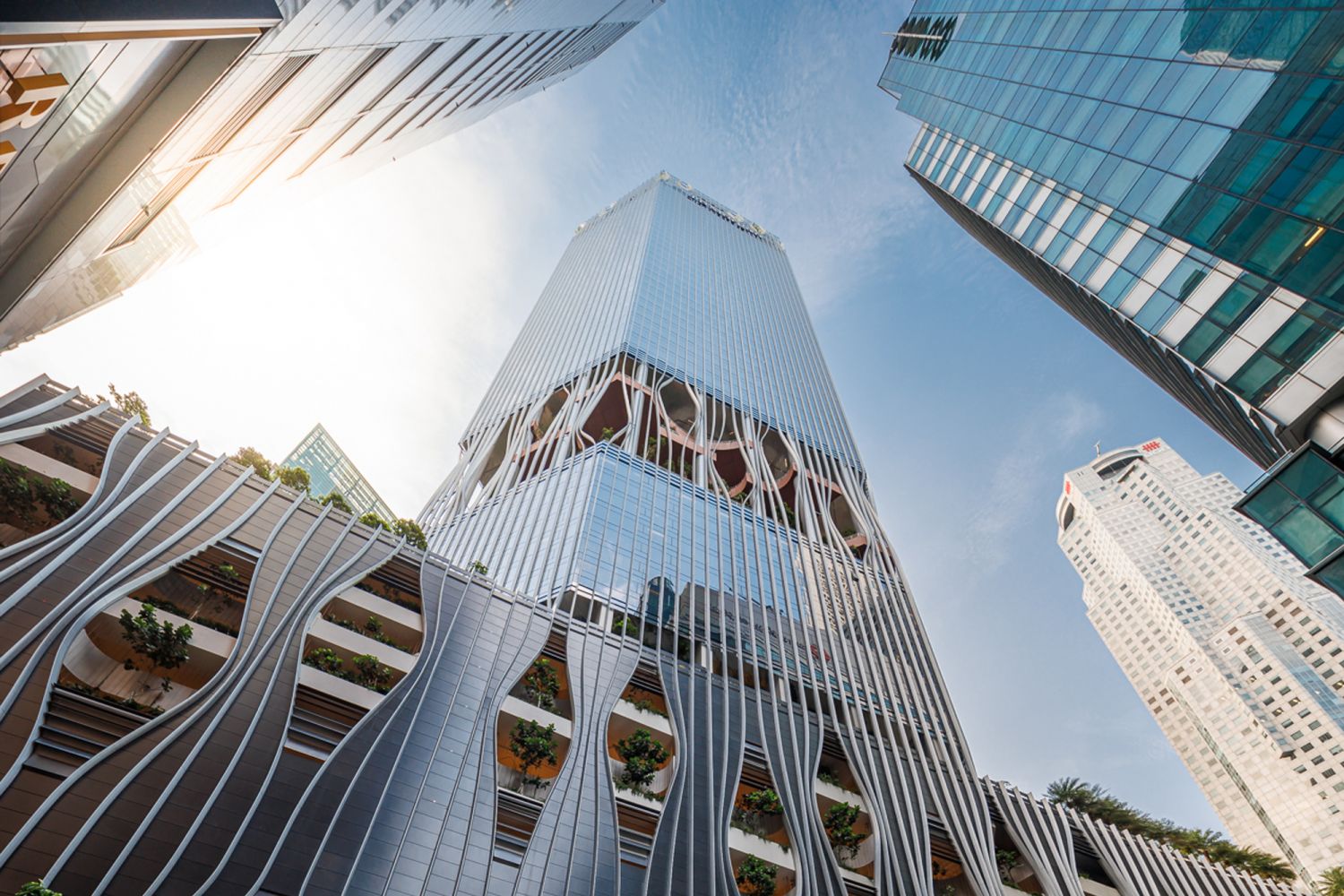 Photo credit: Tatler Asia website
Finally, also measuring 280 meters in height is the newest development  to Singapore's CBD skyline, CapitaSpring.  
The prominent high-rise is the tallest skyscraper in Raffles Place and is ranked the third tallest in the country. Completed at the end of 2021, CapitaSpring makes its mark on Singapore's skyline with its unique outline and extensive use of greenery on both the exterior and interior. 
The towering figure sports 51 floors and while most are rentable office spaces, the building also houses retail tenants and restaurants on the lower floors. These include 299 service apartments by Citadines Apart'hotel's flagship in Raffles Place, as well as Market Street Hawker Centre, housing hawkers formerly from Golden Shoe Food Centre. 
But the most talked about highlight of the structure is the vast space devoted to greenery, a stunning 35-meter tall 'Green Oasis', a spiralling botanic spectacle on Levels 17 to 20. You can check out over 38,000 plants, an amphitheatre, jungle gyms, work pods and more at  'Green Oasis'.  Level 51, also known as 'Sky Garden', is set to open along with Singapore's tallest Urban Farm in the second quarter of 2022.

Address:
CapitaSpring
88 Market Street
Singapore 048948
+65 6983 5118
Hours (Green Oasis): 
Mondays to Fridays 
Level 17:  7:30am – 10:30pm
Levels 18/19/20:  20: 7:30am – 6:00pm
Closed on Saturdays and Sundays
Sol & Luna (Level 17):
Mondays to Fridays 11am – 10:30pm
Saturdays 8am – 10:30pm
Closed on Sundays