As we look forward to Earth Hour later this month, let us commemorate the milestones and achievements earned for taking a green step in the right direction. Here are environmental or sustainability awards amassed over the years by our very own here at Raffles Place. 
CapitaGreen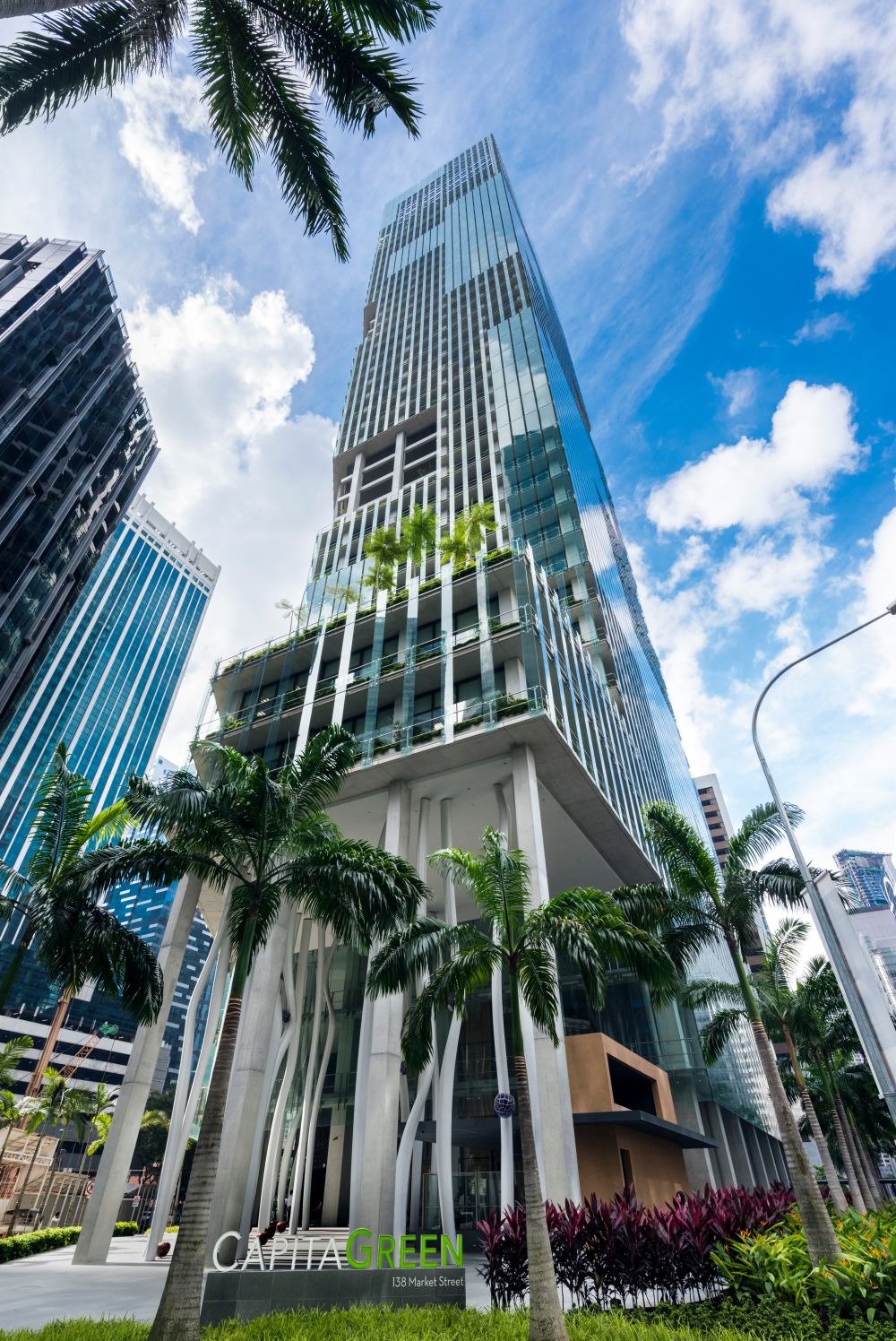 Photo credit: CapitaLand Website
Located in the heart of the central business district, the 40-storey CapitaGreen prides itself on featuring greenery on every floor and integrating natural light within the building through larger windows thanks to its 3.2 metre floor-to-ceiling height.
Featuring eco-friendly operations and stunning design and architecture, CapitaGreen has won many awards over the years.
Specifically, the building was recognised for its user and eco-friendly specifications in its development, earning it the Universal Design Mark Platinum and the Green Mark Platinum from the Building and Construction Authority (BCA).
For their sustainability in design and performance, the building was conferred the SGBC-BCA Sustainability Leadership Awards in the same year, a joint award by the Singapore Green Building Council (SHBC) and BCA.
Address:
CapitaGreen
138 Market Street
Singapore 048946
CapitaSpring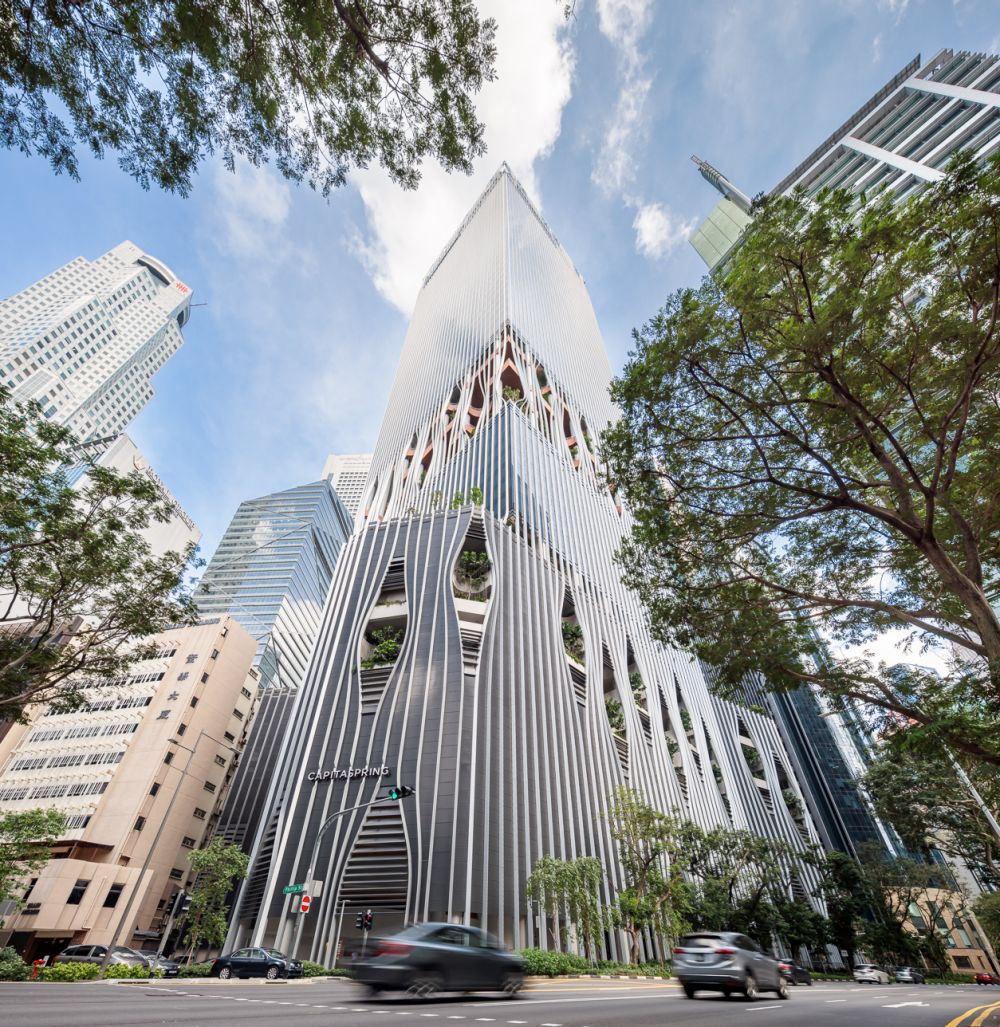 Photo credit: CapitaLand website
The 280-metre tall CapitaSpring is the newest and tallest addition to Singapore's skyline. Besides the Grade A office spaces available in the building, the landmark also features a 35-metre Green Oasis.
The Green Oasis is a 4-storey spiralling botanical promenade filled with lush green life, designed to offer city folk a chance to reconnect with nature in the middle of the CBD. 
The building was awarded with the BCA Green Mark Platinum Award in 2018 for its extensive efforts in making for a greener society. Some of the features include extensive LED lighting throughout the building, use of skylights to introduce daylight to indoor spaces, and external shading devices to reduce solar heat gain, to name a few. Car-lite facilities were also implemented through the addition of a ​​600-metre cycling path around the building's perimeter to form part of the Central Area cycling network cycling paths and bicycle lots. 
A Sky Garden on the 51st storey of the building is set to open in the second quarter of 2022. Visitors can look forward to breathtaking views from Singapore's tallest publicly accessible observatory deck and urban farm upon the level's grand unveiling.
Address:
CapitaSpring
88 Market Street
Singapore 048948
+65 6983 5118
Hours (Green Oasis): 
Mondays to Fridays
Level 17:  7:30am – 10:30pm
Levels 18/19/20:  20: 7:30am – 6:00pm
Closed on Saturdays and Sundays
City House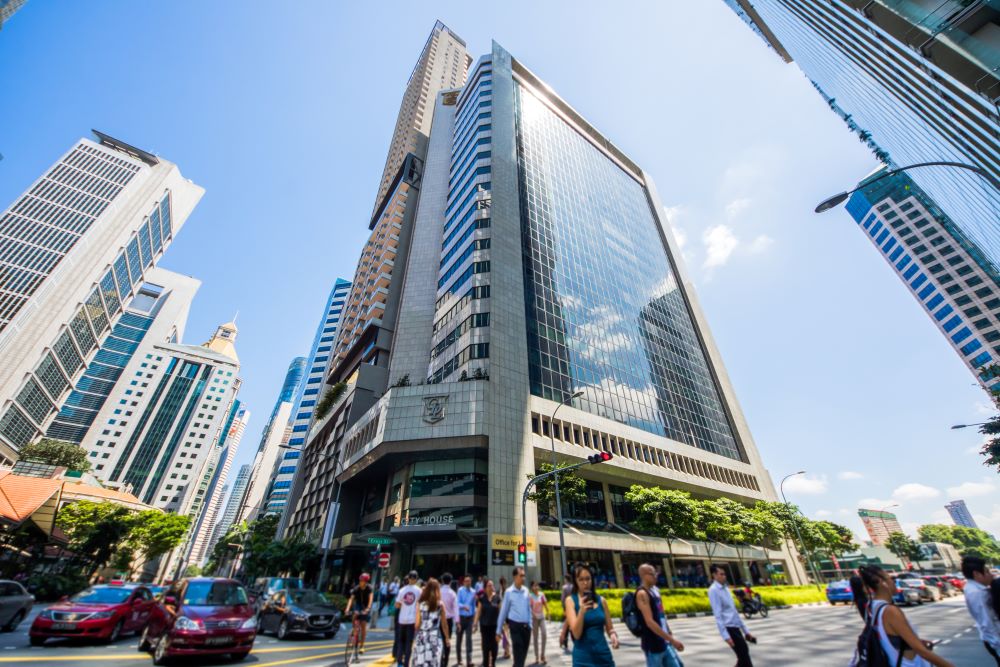 Photo credit: City House
City House triumphed as the sole winner of the Green Mark Pearl Prestige Award in the BCA Awards 2015. Beyond retrofitting City House with a more energy-efficient chiller plant, the building engaged tenants through initiatives such as the "1⁰C Up" Programme to reduce energy usage by raising the air-conditioning temperature. Since 2009, City House has achieved 100% tenant participation for this initiative. Tenants also received kits with practical tips to green fit their premises and were encouraged to recycle.
City House is also a Green Mark Platinum building, with several green features such as water efficient fittings, the use of LED lightings, motion sensors along common areas, natural ventilation for staircases and lift designated control system, just to name a few.
Address:
City House
36 Robinson Road
Singapore 068877
Income At Raffles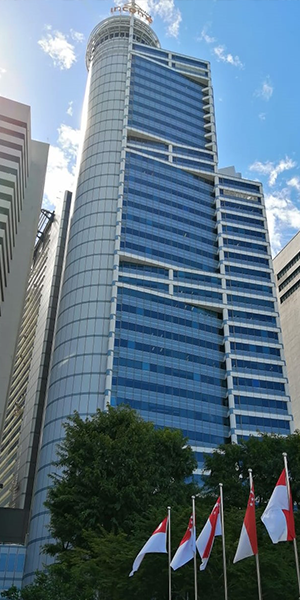 Photo credit: Raffles Place Website
Built in 1992, Income At Raffles was recognised in 2020 for its environmentally conservative methods in operations and was awarded the BCA GoldPLUS award. 
Income At Raffles was recorded to save an estimate of 608,000 kWh/yr. To give you a better idea of what that means, keeping a 32-inch LED television on 24/7 for a whole year might utilise up to 475.2 kWh/year. The building also implemented LED lighting in the majority of communal areas to further save on energy usage.
Address:
Income At Raffles
16 Collyer Quay
Singapore 049318
Ocean Financial Centre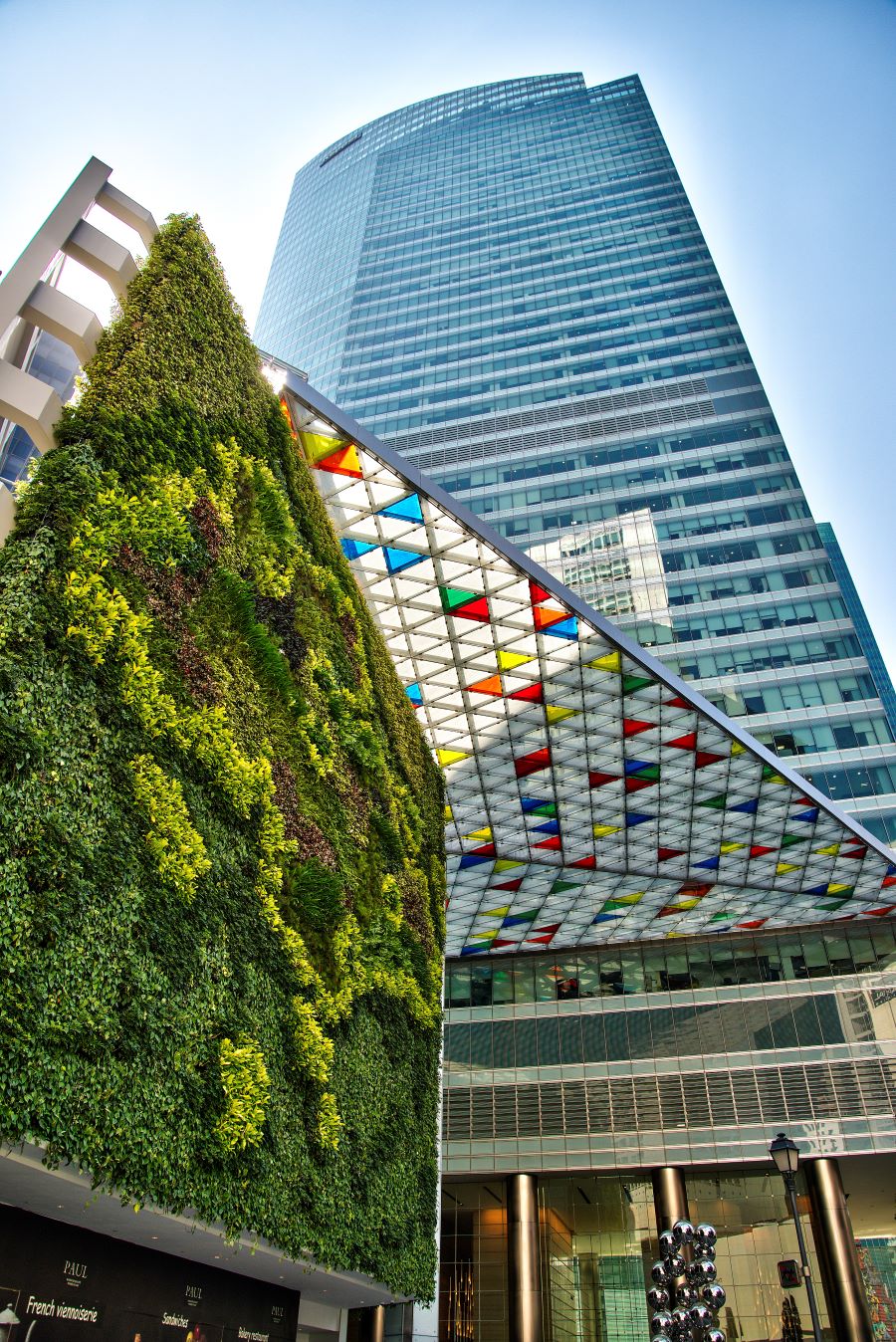 Photo credit: Keppel REIT
Those who have visited Ocean Financial Centre would not be surprised to hear that the 43-storey premium Grade A office building has won multiple awards for its state-of-the-art energy-efficient and environmentally-friendly features including solar panels, an efficient chiller plant, elevators with regenerative drive system, and dual speed escalators with motion sensors.
Developed by Keppel Land and part of Keppel REIT's quality portfolio, Ocean Financial Centre was the first office building in Singapore to achieve the Green Mark Platinum award by the Building and Construction Authority of Singapore (BCA); and the first high-rise office development in Southeast Asia to be conferred the US LEED Platinum Certification – Core and Shell from the US Green Building Council. 
In 2021, it became the first commercial building in Singapore to be certified with the prestigious WELL Health-Safety Rating by the International WELL Building Institute. The rating recognises Keppel REIT's efforts in ensuring a safe and conducive work environment for tenants, including through the proactive adoption of technology and having the best-in-class infrastructure. 
Ocean Financial Centre also stands out with its green wall, which achieved the Guinness World Record for the Largest Vertical Garden in September 2013. Comprising close to 57,000 pots of plants, the green wall not only helps to reduce the surface temperature of the building's car park located behind the wall, it also acts as a green lung in filtering out vehicular emissions and provides visual relief from the dense concrete landscape of the city centre.
Address:
10 Collyer Quay
Singapore 049315
One Raffles Place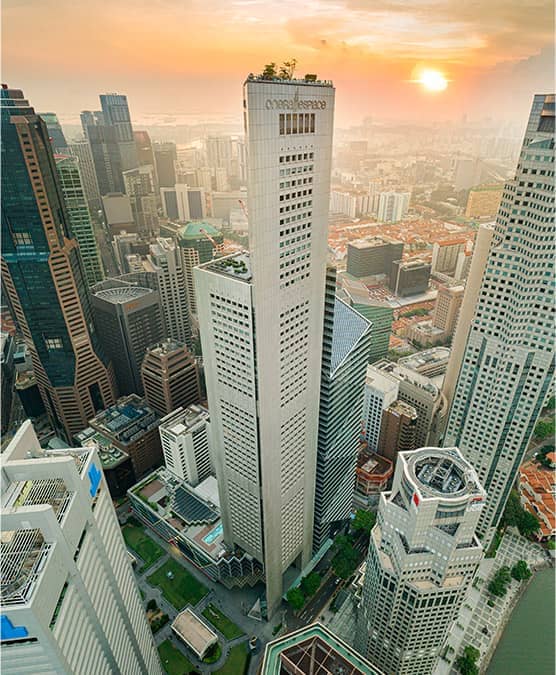 Photo credit: One Raffles Place website
Composed of two Grade-A office towers and a shopping mall, One Raffles Place is a physical embodiment of merging functionality, appearance, and sustainability into one. Both office towers have earned themselves BCA Green Mark Awards.
One Raffles Place Tower One, formerly known as OUB Centre, is rarely excluded in conversations of the top skyscrapers in the world. Aside from its aesthetics, the tower also went to great lengths to save energy and incorporate indoor air purifiers to promote water and waste efficiency, green label products certified by Singapore Green Building Council, as well as an energy efficient chiller system controlled and monitored by Building Management Systems to manage overall energy consumption.
The tower has been awarded the BCA Green Mark Gold Award for its various green operational features and functions. 
One Raffles Place, Tower 2 was designed as the legacy to the first. Together, they work hand in hand to bring a new dimension to the Singapore skyline.
Tower 2 is certified Green Mark Platinum for its energy efficient water-cooled chiller systems, provision of CO2 sensor control for fresh air modulation, use of LED lighting in common areas and the harvesting of rainwater to replace potable water for toilet flushing.
Address:
One Raffles Place 
1 Raffles Place
Singapore 048616
+65 6491 9201
Republic Plaza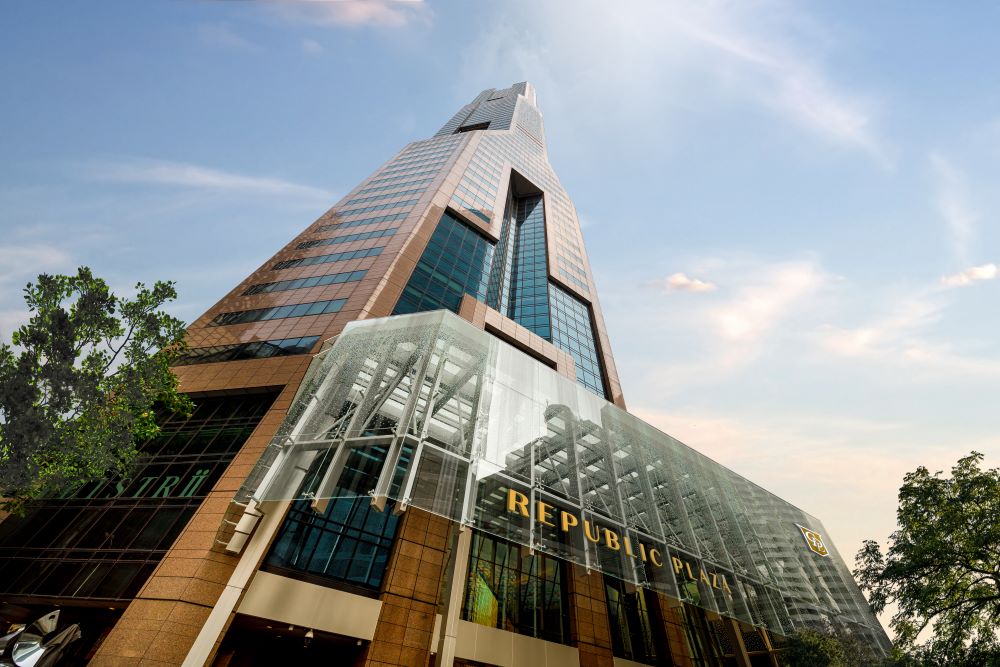 Photo credit: Republic Plaza
Standing at 280 metres tall, Republic Plaza is one of Singapore's tallest skyscrapers, boasting 66 storeys which comprises office space and a three-storey span of F&B and retail outlets to unwind at.
Republic Plaza is a Green Mark Platinum and Green Mark Pearl building, designed and managed with sustainability at its heart. One of the major retrofitting works that Republic Plaza underwent involved the replacement of its 15-year-old chiller system which was no longer operating at its optimal level, enabling it to save close to 4,000,000 kWh of energy, translating to an annual savings of approximately $870,000.
As at 1 January 2018, under CDL's Green Lease Partnership programme, 100% of the tenants at Republic Plaza have committed to adopting green practices within their premises. In recognition of its tenant engagement efforts, Republic Plaza was conferred the BCA Green Mark Pearl Award.
Address:
Republic Plaza
9 Raffles Place
Singapore 048619
Singapore Land Tower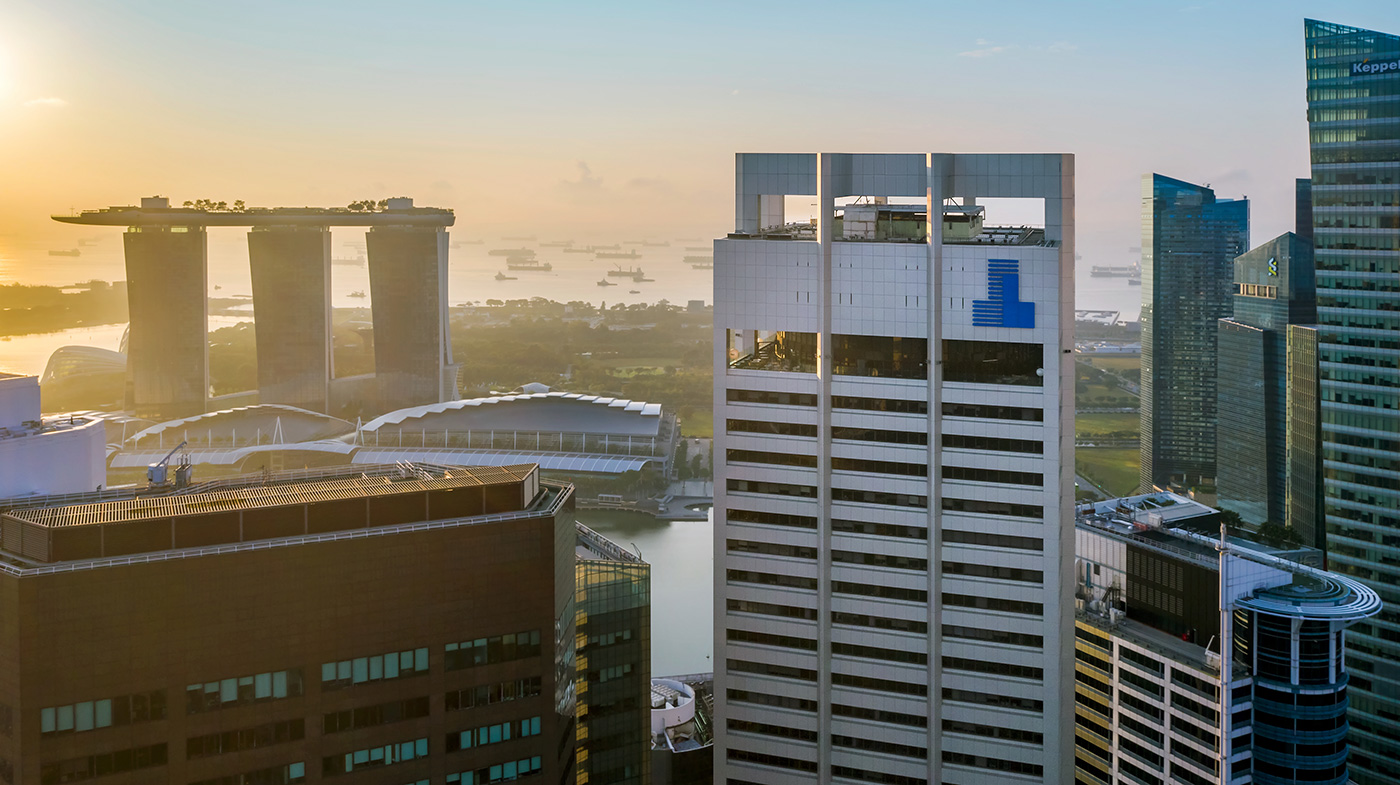 Photo credit: Singapore Land Group website
Standing steady in Singapore's busy city since 1980, Singapore Land Tower offers office spaces in the heart of the country's cityscape.
The tower was awarded BCA's GoldPLUS Green Mark Award for Buildings in 2020. WELS 3-ticks water efficient fittings were installed to tackle excessive usage of water. Drivers were even encouraged to drive electric vehicles, with the introduction of priority parking with charging points. There was also the use of environmentally friendly products and the provision of facilities for recycling.
Address:
Singapore Land Tower
50 Raffles Place
Singapore 048623
+65 6200 1352 (T)
+65 6224 0278 (F)
Six Battery Road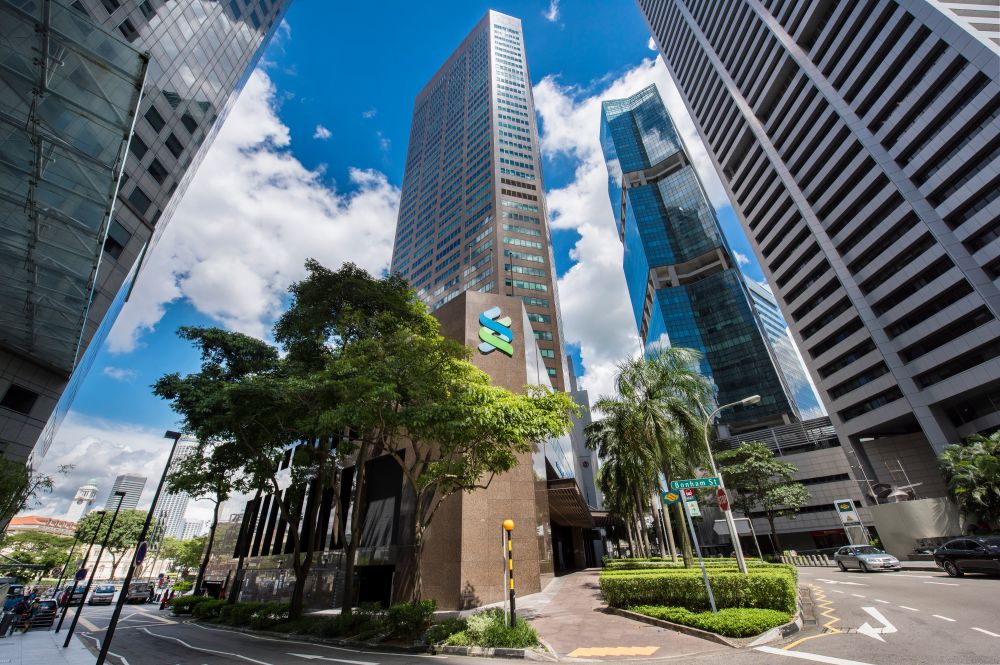 Photo credit: CapitaLand website
Six Battery Road boasts impressive Grade A spaces located in Raffles Place, facing the Singapore River.
The office tower was recognised for its various efforts to minimise its carbon footprint. With the implementation of water-saving features, and incorporating greenery into its landscapes in the forms of a roof garden and an interior green wall.
These features earned the 42-storey landmark the Green Platinum Mark from the Building and Construction Authority (BCA) in 2010.
Address:
Six Battery Road
6 Battery Road
Singapore 049909
+65 6236 1710